Top hotels in Las Vegas
The hotels in Las Vegas are half the city's attraction. Iconic buildings and sophisticated hotels and casinos are paired side by side with manic themed hotels and the pure decadence of the strip the City of Lights is famous for. When you book yourself into a Las Vegas hotel, you're essentially choosing which sort of holiday you're going to have before you've even set foot on the plane. We're here to help you find out more about each hotel, search through a range of prices, and pick the right Las Vegas hotel for you.
We can't talk about Las Vegas hotels without mentioning some of the most famous hotels and some of our most popular hotels. The Stratosphere Casino, with its dominating sky tower, is one you won't miss, even if you're not staying there. The Hard Rock Las Vegas takes the Hard Rock brand to the next level, home to its own casino. For 5-star luxury, try the Wynn Las Vegas.
Whichever Las Vegas hotel you choose, there's so much variety you're bound to end up with one that suits your holiday needs. Perfect for a family holiday, a holiday with friends, or for a loved-up week in this desert gem, Las Vegas has a home for you.
Looking for a flight and hotel? Then check out our holidays in Las Vegas here.
Most popular hotels in Las Vegas
Cheap hotels in Las Vegas
Luxury hotels in Las Vegas
Family hotels in Las Vegas
New York-New York Hotel & Casino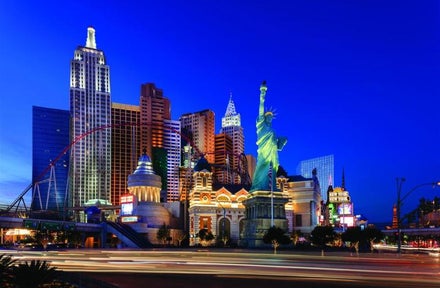 New York-New York Hotel & Casino
Las Vegas, Nevada