Top hotels in Abu Dhabi
Non-stop sunshine, stellar beaches and world-class shopping - our hotels in Abu Dhabi put everything this dazzling U.A.E. city offers on your doorstep. What it's to be? Luxury hotels in Abu Dhabi bordering the sands? Cheap hotels in Abu Dhabi slap bang in the city centre? Or what about family-friendly hotels in Abu Dhabi or other styles of accommodation in Abu Dhabi?
Whatever your tastes, budget or travel group requires, we have a great selection of Abu Dhabi hotels for you to choose from. This city is mainly known for its sense of luxury and richness and you will be immersed within this in many of the hotels in Abu Dhabi. In many of these grand resorts you will find yourself pampared as you stay in Abu Dhabi. With top class facilities and decorative rooms which are easy on the eye, you won't be displeased.
Looking for a flight and hotel? Then check out our holidays in Abu Dhabi here.
Cheap hotels in Abu Dhabi
All Inclusive hotels in Abu Dhabi
Luxury hotels in Abu Dhabi
The Ritz Carlton Abu Dhabi Grand Canal
The Ritz Carlton Abu Dhabi Grand Canal
Abu Dhabi, Abu Dhabi
Bab Al Qasr Hotel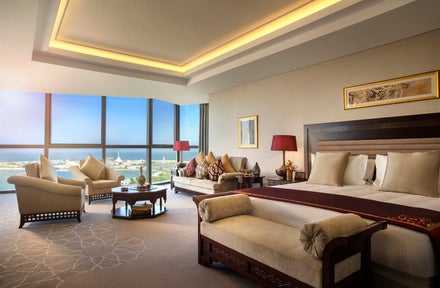 Bab Al Qasr Hotel
Abu Dhabi, Abu Dhabi
Flight time to Abu Dhabi
The average flight time to Abu Dhabi from the UK is 7 hours 10 minutes.
Things to do in Abu Dhabi
Whatever you're planning to do in this futuristic city, our tremendous deals will make it happen. Whether you're set on bronzing your body on powdery white beaches, shopping till you drop in opulent malls and souks or experiencing serene, dune-crammed deserts, this skyscraper-packed emirate will oblige. And that's not counting its beautiful gardens, fun children's entertainments, exciting island boat trips and glitzy nightlife, all infused with Arabian mystique and year-round sunshine.
Fantastic things to do in Abu Dhabi include:
Sheikh Zayed Mosque
Ferrari World Abu Dhabi
Yas Island
Saadiyat Island
Marina Mall
Yas Marina Circuit
Yas Waterworld Abu Dhabi
Corniche Beach
Nightlife in Abu Dhabi
When you're looking for the party capital of the Middle East, Abu Dhabi is definitely it. It is a fantastic hub or night time fun. There are strict guidelines here regardless, so it must be remembered that although alcohol consumption is allowed, unruly and drunk behaviour is not tolerated and can result in arrest. Many hotels and resorts in Abu Dhabi host nightclubs and there is a variety of music that is played. On the other hand, many popular and highly rated restaurants are inside hotels too.
Popular nightlife hotspots in Abu Dhabi include:
The Jazz Bar in the Hilton Abu Dhabi
Oceans in Le Royal Meridien
Sea Lounge in Monte-Carlo Beach Club
G Club in Le Meridien
Cinnabar in the Hilton Abu Dhabi
Allure by Capriani in Yas Island Yacht Club