Top hotels in Antalya
Antalya is a resort city located on Turkey's southern Mediterranean coastline. Home to an Old Harbour full of bobbing yachts and a number of bars, restaurants and cafes spread out between historical sites, hotels in Antalya provide access not only to a bustling city centre but also the peaceful gateway to Turkey's Turquoise Coast.
With a wide range of hotels in Antalya, you'll find many different places to stay. There are hotels in Side, Alanya and Kemer to name a few. There are hotels in Antalya for every occasion - whether it be a family holiday with beaches and waterparks in mind or a romantic week in the Turkish sun - Antalya is one of the fastest growing cities in Turkey with a great choice of hotels to match. You'll also find that many of the hotels are undergoing renovations as tourism to the region continues to grow, so get hunting. Here are some of our top hotel picks for Antalya to get you started.
Looking for a flight and hotel? Then check out our holidays in Antalya here.
Most popular hotels in Antalya
All Inclusive hotels in Antalya
Luxury hotels in Antalya
Ramada Resort Side
Ramada Resort Side
Side, Antalya
Side Su Hotel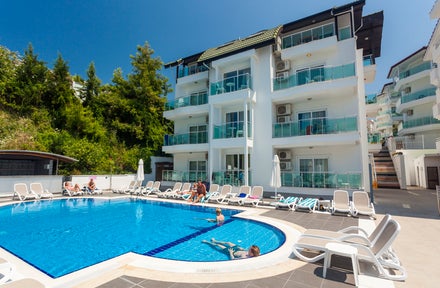 Side Su Hotel
Side, Antalya
Family hotels in Antalya
Sensitive Premium Resort & Spa - All Inclusive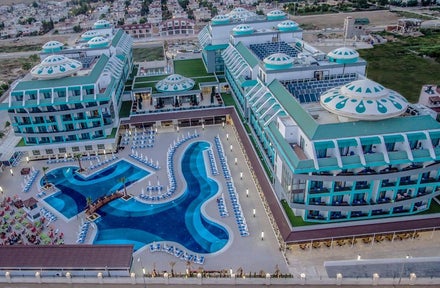 Sensitive Premium Resort & Spa - All Inclusive
Belek, Antalya
Flight time to Antalya
The average flight time to Antalya from the UK is 4 hours 15 minutes.
Top destinations in Antalya
Antalya is a highly popular resort city in Turkey.filled with fantastic, sunny beaches and loads of hotels to suit every holidaymaker. There is a lot of history left behind in Antalya too. Roman ruins are prominent in this area of Turkey. The old harbour in Antalya includes an abundance of yachts and shows the true beauty that this part of Turkey holds.
Top destinations in Antalya include:
Side
Alanya
Lara Beach
Kemer
Belek
Things to do in Antalya
Antalya is home to natural beauties and historical remains from its colourful past. There are wooded canyons where you can participate in adventurous water sports like rafting. As well as stunning waterfalls that you can admire up close or from afar. Beautiful beaches can also be found all around Antalya. No matter what interests you on a holiday, you'll be sure to find it in here.
Wonderful things to do in Antalya include:
Hadrian's Gate
Duden Waterfalls
Konyaalti Beach
Yivliminare Mosque
Kursunlu Waterfall Nature Park
Antalya Museum
Karaalioglu Park
Koprulu Canyon