Top hotels in Aegean Coast
Hotels on the Aegean Coast stretch from Istanbul in the north all the way down a coastline of beautiful beaches and enormous holiday resorts to Marmaris in the south. A host of former fishing villages and coastal towns have changed their faces to match an increase in tourists, but there is still a traditional magic to be found outside of the larger resorts if you prefer an authentic experience.
Due to the sheer number of popular hotels on the Aegean Coast, finding a cheap deal for any time of the year is actually much easier than at other European destinations. Popular destinations on the Aegean Coast for hotels include Izmir, a hotbed of archaeological sites spanning many centuries and civilizations; Fetiyhe, from which you can access the famous Olu Deniz Lagoon, is a popular coastal town with many hotels available, and Marmaris, the champion of holiday resorts and a top pick for a hotel on the Aegean Coast.
Looking for a flight and hotel? Then check out our holidays in Aegean Coast here.
Most popular hotels in Aegean Coast
Cheap hotels in Aegean Coast
All Inclusive hotels in Aegean Coast
Luxury hotels in Aegean Coast
Family hotels in Aegean Coast
Aquasis Resort & Spa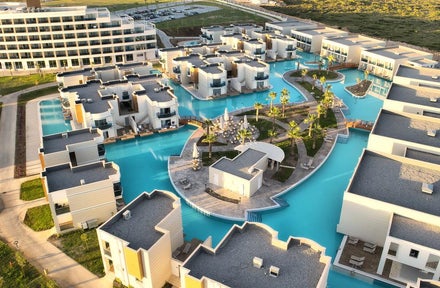 Aquasis Resort & Spa
Didim, Aegean Coast
Pine Bay Holiday Resort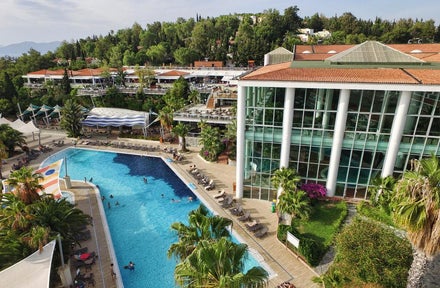 Pine Bay Holiday Resort
Kusadasi, Aegean Coast
Flight time to Aegean Coast
The average flight time to Aegean Coast from the UK is 4 hours.
Top destinations in Aegean Coast
Turkey's Aegean Coast has an abundance of sandy and sunny beaches which are great for families and couples alike. As well as this there some amazing resorts and hotels in various parts of the Aegean Coast. Whether you're looking for something simple or an all inclusive affair, you'll be sure to find it in the Aegean Coast.
Popular destinations in Aegean Coast include:
Kusadasi
Didim
Bodrum
Gumbet
Turgutreis
When to visit Aegean Coast
As you can imagine, the climate along the Aegean Coast is out of this world. The weather here is super sunny and it can be sweltering hot, especially during the summer months. July and August are the hotest months along this coast, reaching highs of 36 degrees celcius. During the winter, it cools down quite a bit, with January being the coldest month of the year.
Average high and low temperatures for each month:
January: 16° / 9°
February: 17° / 9°
March: 19° / 11°
April: 23° / 14°
May: 28° / 18°
June: 33° / 22°
July: 36° / 25°
August: 36° / 25°
September: 32° / 22°
October: 27° / 18°
November: 22° / 14°
December: 18° / 11°