Top hotels in Turkey
From full on luxury, to bargain hotels in Turkey, we've got a huge range – and with 45 years of making holidaymakers dreams come true, and ABTA membership it means you can book with confidence on our online site. We've got details of cheap accommodation in Turkey, from Istanbul down to Izmir, Bodrum and Dalaman. Just tell us where you'd like to stay and let us do the rest. Our speedy search tool will show you rates and availability of hotels, apartments and even golf villas in Turkey – take a look!
Looking for a flight and hotel? Then check out our holidays in Turkey here.
Most popular hotels in Turkey
All Inclusive hotels in Turkey
Family hotels in Turkey
Side Alegria Hotel And Spa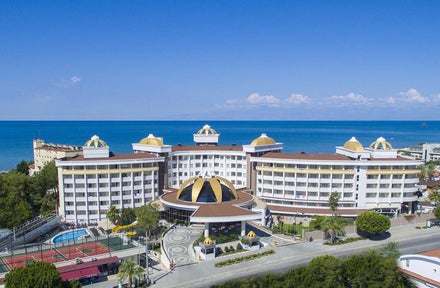 Side Alegria Hotel And Spa
Side, Antalya
Flight time to Turkey
The average flight time to Turkey from the UK is 4 hours.
Top resorts in Turkey
Turkey is a country which straddles Europe and Asia and as a result has a number of influence within its culture and society. There is beautiful architecture and various landscapes to be discovered here. Thermal waters, Roman ruins and wonderful coastlines are what make Turkey such a popular tourist destination.
Top resorts in Turkey include:
Antalya
Dalaman
Side
Kusadasi
Lara Beach
Marmaris
When to visit Turkey
Turkey is a fantastic destination for any time of the year due to its generally good weather all year round. The summers are usually hot and dry and can experience high temperatures between June and September. The best time to visit Turkey would be during the spring, April and May or even the autumn between September and November when the temperatures are mild and pleasant. Perfect for you to be adventurous during your Turkey holiday.
Average high and low temperatures for each month:
January: 15° / 5°
February: 15° / 6°
March: 18° / 7°
April: 21° / 10°
May: 26° / 14°
June: 31° / 18°
July: 34° / 21°
August: 33° / 21°
September: 31° / 18°
October: 26° / 14°
November: 20° / 9°
December: 16° / 7°