Top hotels in Tunisia
Tunisia boasts some of the best value hotels for sun, sea and sand. A combination of North African hospitality, crazy sunshine almost year-round and hotels with massive water parks and private beaches make Tunisia a destination you should definitely consider for your 2018/2019 holidays.
Many of the resort towns are set along the coastline and are made up of large hotels with expansive grounds. They boast waterparks and multiple restaurants. An ideal family destination, Tunisia has plenty of family-friendly hotels at great prices. Tunisia is a great alternative to other destinations such as Turkey or Morocco. You get a lot for your money.
Trips are plentiful, with everything from camel rides to snorkelling on offer.
Looking for a flight and hotel? Then check out our holidays in Tunisia here.
Most popular hotels in Tunisia
All Inclusive hotels in Tunisia
Marhaba Beach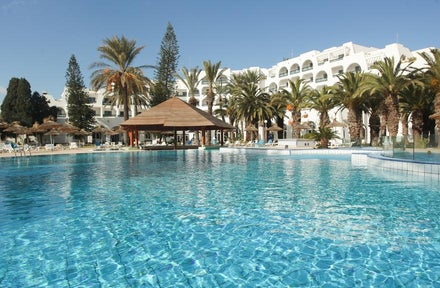 Ramada Liberty Resort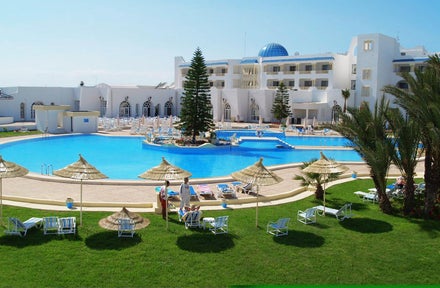 Ramada Liberty Resort
Skanes,
Family hotels in Tunisia
Club Salammbo - All Inclusive
Club Salammbo - All Inclusive
Hammamet,
Occidental Sousse Marhaba
Occidental Sousse Marhaba
Sousse,
Flight time to Tunisia
The average flight time to Tunisia from the UK is 3 hours 15 minutes.
Top resorts in Tunisia
Our favourite resorts in Tunisia include Hammamet, Sousse and Port el Kantaoui. Hammamet is the number tourist destination in Tunisia thanks to its sandy beaches and waters that are ideal for watersports. Many of the hotels here encompass most of the coastline, and although you can get a sense of authentic Tunisia, this is primarily a tourist destination. Trips and tours can be organised into the Sahara desert if you'd to experience this natural wonder.
Top resorts in Tunisia include:
Hammamet
Port el Kantaoui
Sousse
Monastir
When to visit Tunisia
Tunisia shares a Mediterranean climate, which means the summers can be scorching hot, especially in the south of the country towards the Sahara. In the north, the winter time can be quite chilly as the temperatures drop. The best time to visit Tunisia would be in the spring months. Between April and June, the weather is warm and mild and perfect for those looking to explore all that the country has to offer.
Average high and low temperatures for each month:
January: 16° / 9°
February: 17° / 8°
March: 20° / 10°
April: 22° / 13°
May: 27° / 16°
June: 31° / 20°
July: 34° / 23°
August: 34° / 23°
September: 30° / 21°
October: 27° / 18°
November: 22° / 13°
December: 18° / 10°