Top hotels in Murcia
Searching for accommodation in Murcia? Look no further. We have irresistible deals on hotels in Murcia and self-catering in and around Murcia, so whatever you're planning, we've got room for everyone including brilliant cheap hotels in Murcia, great holiday apartments in Murcia and luxury holiday villas in the Murcia region.
No matter where you stay, this charming city surrounded by pretty market gardens near Spain's Costa Blanca's beaches is sure to work its magic. From its historic centre with its ancient Moorish walls and spectacular Baroque Cathedral with its ornamental Velez Chapel to world-class museums, elegant shopping streets and hundreds of lively restaurants and tapas bars serving mouth-watering cuisine, it's got all the ingredients for a truly relaxed Spanish holiday. And just a short distance away, you'll find the golden sands and golf courses around La Manga on the sun-drenched Costa Blanca coast. Who could want for more?
Looking for a flight and hotel? Then check out our holidays in Murcia here.
Cheap hotels in Murcia
Hotel Lodomar Spa & Talasoterapia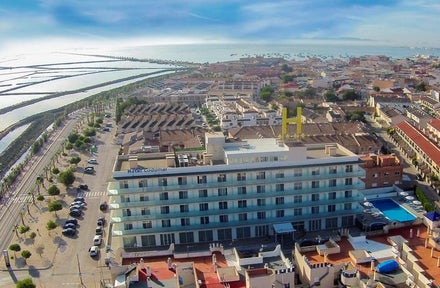 Hotel Lodomar Spa & Talasoterapia
San Pedro Pinatar, Murcia
Flight time to Murcia
The average flight time to Murcia from the UK is 2 hours 40 minutes.
Things to do in Murcia
Murcia is a beautiful city which lies to the south-east of Spain and is also the seventh largest city in the country. There are nice little towns to roam about in and also lovely pieces of architecture to admire. Moreover, Murcia is home to museums where you can learn about the region's rich past and history.
Top things to do in Murcia include:
Murcia Cathedral
Segura
Mar Menor
Real Casino de Murcia
Episcopal Palace of Murica
Museo de Santa Clara la Real
Santuario de la Fuensanta
Puente de los Peligros
When to visit Murcia
Murcia is mostly warm for the duration of the year, however the summers can get really hot. The best time to visit this Spanish region is during the spring time and the fall. At these times the climate is a lot more pleasant. During the winter the weather can be a lot more cooler than usual, so spring time is your best bet at enjoying the weather as it starts to warm up.
Average high and low temperatures for each month:
January: 17° / 5°
February: 18° / 6°
March: 21° / 8°
April: 23° / 10°
May: 27° / 14°
June: 31° / 18°
July: 34° / 21°
August: 34° / 21°
September: 31° / 18°
October: 26° / 15°
November: 21° / 9°
December: 17° / 6°