Top hotels in Madrid
We've got all sorts of hotels in Madrid. On a budget? Search here for cheap hotels in Madrid. Planning on a special trip? We've got lots of luxury apartments and five start hotels. Madrid is one of Europe's most popular cities for short breaks, but it's also ideal as a base from which to explore the Sierra ranges or neighbouring towns and villages. The city itself has much to occupy its visitors, famous museums and galleries, royal parks, and fabulous restaurants, as well as late night bars and clubs.
We have a wide range of cheap hotels in Madrid as well as luxury options. So, whether you're travelling with a group of friends or as a couple, there will be many appealing choices for you when it comes to our selection of Madrid hotels.
Finding cheap accommodation in Madrid can be done in seconds with our simple search facility. Just tell us when you will be in the city, what sort of accommodation you'd like; holiday apartments in Madrid, villas or hotel rooms, and what rating, and we'll tell you what's available. We'll show you details of the accommodation explaining if it's one of our family hotels in Madrid, or a boutique option.
Looking for a flight and hotel? Then check out our holidays in Madrid here.
Luxury hotels in Madrid
Eco Alcala Suites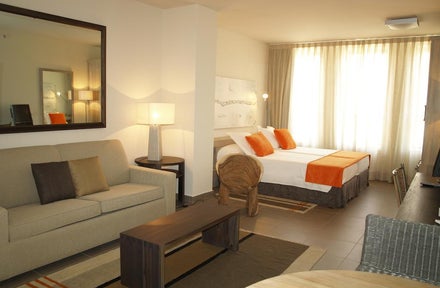 Eco Alcala Suites
Madrid, Madrid
Hotel Nuevo Madrid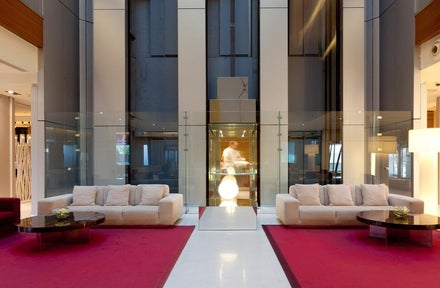 Hotel Nuevo Madrid
Madrid, Madrid
Flight time to Madrid
The average flight time to Madrid from the UK is 2 hours 25 minutes.
Things to do in Madrid
Madrid, the capital of Spain is sure to keep you busy and entertained during your visit. Madrid is home to some of the most beautiful sights to see, from its parks to its museums and squares. It's also a great hub for culture and shopping, particularly down Gran Via.
Great things to do in Madrid include:
Museo Nacional del Prado
Parque del Buen Retiro
Royal Palace of Madrid
Plaza Mayor
Puerta del Sol
Gran Via
Museo Nacional Centro de Arte Reina Sofia
Plaza de Espana
Shopping in Madrid
If you're looking for some retail therapy when in Spain, Madrid is definitely the place for you. It's probably the best place to shop within Spain as a whole. You can enjoy a range of local shops to international designers. Within Madrid, there are plenty of different areas that you can go out and about and enjoy the stores.
Fantastic places to shop in Madrid include:
Gran Via
Princesa
Fuencarral
Serrano
Las Rozas Village