Top hotels in Salou
Ah sunny Salou! Situated on the Costa Dorada, Salou is the perfect choice when it comes to a fun-packed holiday. With sandy beaches galore plus the largest theme park in the world, PortAventura, you really won't be left with any spare time on your hands. Moreover, you get to taste the delicious Spanish cuisine that Salou has to offer. A wide range of restaurants and eateries can be found in Salou, providing you with a huge selection of tasty traditional dishes.
What's more, Salou hosts a variety of hotels and apartments to make your stay more comfortable and relaxed. Choose from aparthotel's equipped with a swimming pool, handy for those hot days when you need a bit of a cool down. Or book a 5-star retreat which will surely have you making the most of your Salou holiday. Whatever you end up choosing, Salou hotels are suitable for each holidaymaker's taste and budget.
Looking for a flight and hotel? Then check out our holidays in Salou here.
All Inclusive hotels in Salou
Luxury hotels in Salou
Ohtels Villa Romana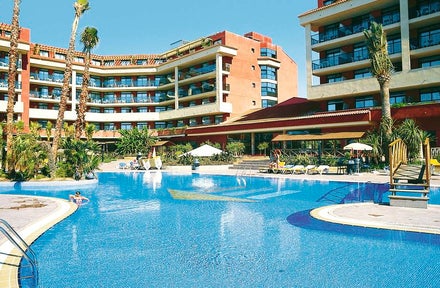 Ohtels Villa Romana
Salou, Costa Dorada
Flight time to Salou
The average flight time to Salou from the UK is 2 hours 10 minutes.
Things to do in Salou
Salou is a holiday for the thrill-seekers, those who are looking for a bit of action and adventure. Sure, you can sit back and relax on sun-drenched beaches, but one of the real attractions of Salou is its theme park. With plenty of family-friendly attractions such as rides and live entertainment, you can't go wrong with a family break to Salou. Once you've had enough excitement for one day, head over to one of Salou's beaches where you can take a more relaxed approach towards your holiday.
PortAventura World
Ferrari Land
PortAventura Aquatic Park
Llevant Beach
Cala Crancs
When to visit Salou
Salou experiences soaring temperatures during the summer, however PortAventura world and the beaches will see masses of people. Mid-spring and early autumn are great times to head out for your Salou holiday, as the temperatures are milder than summer but still warm. There will also be fewer tourists visiting the city around this time too. With that said, the weather in Salou is decent all year around, aside from a few weeks in the winter when temperatures fall, and it gets quite chilly.
Average high and low temperatures for each month (°C):
January: 15° / 5°
February: 16° / 5°
March: 18° / 7°
April: 19° / 9°
May: 23° / 13°
June: 27° / 17°
July: 30° / 20°
August: 30° / 20°
September: 27° / 17°
October: 23° / 13°
November: 18° / 8°
December: 15° / 5°