Top hotels in Santa Susanna
Santa Susanna situated in the Costa Brava region is home to a great range of beaches and town centres which ooze Spanish authenticity. In fact, you'll come across some of the best beaches along the Northern Spanish coastline in Santa Susanna.
Sample local cuisine which will no doubt satisfy your taste buds and explore the wonderful medieval towns and centres which are so recurrent in the area. Also, perfect for those travelling with children, you'll find an abundance of activities in Santa Susanna like the National Park, where the kids can have a run around as you take some time to relax and admire your surroundings.
Santa Susanna hotels are wonderful too! With a range of accommodation options, you'll be able to find whatever it is you're looking for when it comes to your holiday on the Spanish Costa Brava.
Looking for a flight and hotel? Then check out our holidays in Santa Susanna here.
Cheap hotels in Santa Susanna
All Inclusive hotels in Santa Susanna
Family hotels in Santa Susanna
Tahiti Playa Hotel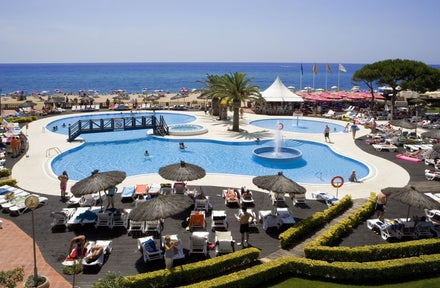 Tahiti Playa Hotel
Santa Susanna, Costa Brava
Flight time to Santa Susanna
The average flight time to Santa Susanna from the UK is 2 hours 5 minutes.
When to visit Santa Susanna
Santa Susanna is a great location during the summer time and early autumn. Hitting temperatures into the 30's for July and August, the weather stays warm going into September and even October. For the winter, the weather gets cooler and milder but the spring sees it start to warm back up again. If you're looking for a summer holiday destination, Santa Susanna is perfect as you can lap up the sun at the beach or exploring the town.
Average monthly weather (°C):
January: 13° / 1°
February: 14° / 2°
March: 17° / 4°
April: 19° / 6°
May: 22° / 10°
June: 27° / 14°
July: 30° / 17°
August: 30° / 17°
September: 26° / 14°
October: 22° / 10°
November: 17° / 5°
December: 14° / 2°