Top hotels in Benidorm
Benidorm hotels come in all sorts of shapes and sizes. One of the most popular European holiday destinations for British tourists over the last forty years. Springing out of the Costa Blanca coastline, Benidorm's high-rise hotels and apartments dominate the low-lying hills of the countryside. Iconic not only for its hotels, the two beaches that line the front of Benidorm - Poniente and Levante - are huge, safe, and sandy.
What's on offer?
There are so many different types of hotels in Benidorm it's quite difficult to place the resort under one category. Benidorm's an all-rounder. Sunny for most of the year, affordable, and exciting. Benidorm is a totally classic holiday destination with the choice of hotels to match this long heritage of fun in the sun. With two of its best beaches - Playa Poniente and Playa Levante - covering most of the coastline, finding a hotel in Benidorm by the beach is very easy.
With a choice of all inclusive retreats and low-key budget apartments, we've got a range of hotels in Benidorm to suit any budget. Although Benidorm has a reputation for being a boozy beach holiday, in recent years the resort has quietened down as the younger generations have moved on to other Mediterranean destinations for their parties. If you book a hotel in Benidorm during the off-season (generally considered to be between November and March), you'll really be able to appreciate the understated welcoming atmosphere of this iconic resort.
Looking for a flight and hotel? Then check out our holidays in Benidorm here.
Most popular hotels in Benidorm
All Inclusive hotels in Benidorm
Luxury hotels in Benidorm
Family hotels in Benidorm
Servigroup Pueblo Benidorm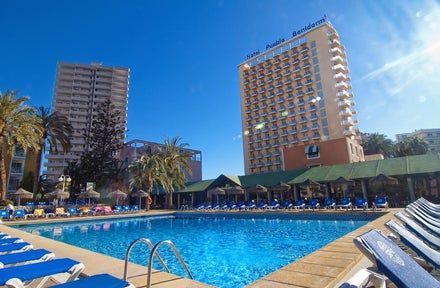 Servigroup Pueblo Benidorm
Benidorm, Costa Blanca
Servigroup Orange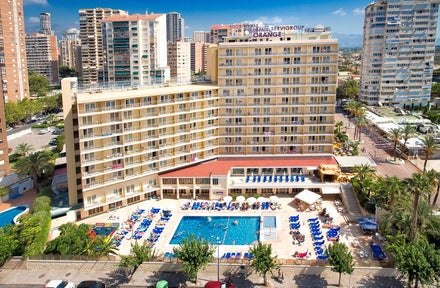 Servigroup Orange
Benidorm, Costa Blanca
Flight time to Benidorm
Flights land at Alicante Airport, with an average flight time of 2 hours 20 minutes from the UK.
Why travel to Benidorm?
A world-class destination
Benidorm will work for all sorts of holidays. With hotels in Benidorm that cater to families, hotels that provide a good service for groups of friends, or hotels that are just for a last minute adult only getaway, you can find the right place to suit whatever sort of holiday you've picked. Dance the night away in one of Benidorm's many bars, relax on the large sandy beaches of Poniente and Levante, or head along the Costa Blanca to discover the rest of this beautiful region - top picks include Alicante and Xabia.
Things to do in Benidorm
If you're travelling with children, Aqualandia is a big draw to Benidorm. Open from May 26th, 2018, it's Spain's largest waterpark. Ideal for families with young children all the way up to thrill-seeking teenagers, Aqualandia draws in water directly from the sea and offers a wide range of activities. There are fifteen water rides, including some of Europe's biggest and best slides, drops, and pools. But, Benidorm also has a lot of natural beauty to go hand in hand with its fun activities.
Great things to do in Benidorm include:
Aqualandia
Mundomar
Terra Mitica
Terra Natura
Elche Park
Balcon de Mediterraneo
Aiguera Park
Benidorm Island
Nightlife in Benidorm
Another reason hotels in Benidorm are so popular is that the resort strikes a balance between Spanish traditional cuisines and cafes in the Old Town, paired seamlessly with a busy nightlife of international bars and restaurants along the main strip. Benidorm's Old Town has architecture dating back hundreds of years, and its cobbled streets, restaurants and bars make for a peaceful afternoon wander.
Fantastic bars and clubs include:
Cafe Benidorm
Morgan Tavern
KM Playa
Heartbreak Rock Bar
The Intimate Bar