Top hotels in Andalucia
Andalucia, a region of southern Spain controlled by the Moors for seven centuries, boasts a range of hotels that encompass and highlight this rich cultural history. A land of rolling hills, fragrant scents of Spanish high summer, and jaw-dropping history, Andalucia is one of our favourite picks of the Spanish regions. From beachfront super-hotels in Malaga to laid-back city apartments in Seville, we make it easy to find your perfect hotel with our list of the best hotels in Andalucia.
With a variety of hotels across Andalucia - encompassing popular resorts such as the glitzy Costa del Sol, sparking Marbella and family-friendly Torremolinos - this is one region of Spain with the stock to back up its big claims of being the best spot in the country to look for a hotel.
Looking for a flight and hotel? Then check out our holidays in Andalucia here.
Cheap hotels in Andalucia
All Inclusive hotels in Andalucia
Luxury hotels in Andalucia
Family hotels in Andalucia
Hotel Best Oasis Tropical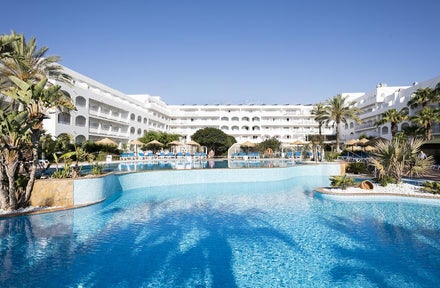 Hotel Best Oasis Tropical
Mojacar, Andalucia
Flight time to Andalucia
The average flight time to Andalucia from the UK is 2 hours 30 minutes.
Top destinations in Andalucia
The southern region of Spain is beyond beautiful. Andalucia has everything you could possibly want in a Spanish holiday. Wonderful beaches, a hot sunny climate and beautiful cities galore. There are loads of destinations to choose from in this region and whichever one you pick, you won't be disappointed. Andalucia will appeal to all of the senses, with stunning sights, delicious food and sandy beaches for families, couples and friends alike to enjoy.
Top destinations in Andalucia include:
Seville
Malaga
Granada
Cordoba
Almeria
Things to do in Andalucia
Andalucia has plenty of things to see and do dotted all over the region. Whether you're looking for architecture which will take you back in time to the region's rich culture and history. You'll be sure to find it, there is plenty of influence from the Moors as well as Islamic features in many of the well known pieces of architecture in Andalucia. Not forgetting, the region has some of the best beaches in Spain.
Great things to do in Andalucia include:
Alhambra
Costa del Sol
Alcazar of Seville
Mosque of Cordoba
Seville Cathedral
Plaza de Espana
Costa de la Luz
Alcazaba of Malaga