Top hotels in Vilamoura
Cosmopolitan Vilamoura is a stylish choice for both a relaxing or sporty vacation. Specially built to appeal to the holiday-maker, its centrepiece is a magnificent marina, complete with a buzzing waterfront of chic cafés, bars, boutiques and restaurants. First class sports facilities are thick on the ground with excellent golf, tennis and fishing, and there are two sandy beaches hugging the marina. Night-life is relatively low-key, centering around a good selection of places to eat and drink, complemented by a casino.
Vilamoura is perfect for every type of holidaymaker, even more so when it comes to its unique properties. Discover luxury hotels which can accommodate to your every need, or book apartments which can give you a more basic stay. If you're looking for an all inclusive accommodation within Portugal, Vilamoura hotels are just what you need to have a look at.
Looking for a flight and hotel? Then check out our holidays in Vilamoura here.
Cheap hotels in Vilamoura
All Inclusive hotels in Vilamoura
Dom Pedro Vilamoura Resort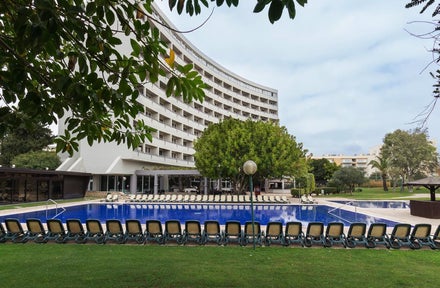 Dom Pedro Vilamoura Resort
Vilamoura, Algarve
Luxury hotels in Vilamoura
Family hotels in Vilamoura
Flight time to Vilamoura
The average flight time to Vilamoura from the UK is 2 hours 55 minutes.
Things to do in Vilamoura
Vilamoura is well-known for its golf courses and resorts within the Algarve region. However, that's not all it has to offer. A bit of exploring in Vilamoura will have you bumping into Roman ruins and of course sandy beaches which are also surrounded by dramatic cliffs. Vilamoura is a great spot in the Algarve for couples and families alike, either way, you're bound for a relaxing stay with a Vilamoura holiday.
Praia da Rocha Baixinha
Roman ruins of Cerro da Vila
Family Golf Park
Praia de Vilamoura
Quarteira River
When to visit Vilamoura
The weather in Vilamoura is typically great, situated along Portugal's Atlantic coast, the resort experiences a typical Mediterranean climate. The summers are long and mean an increase in temperatures. On the other hand, late autumn and winter can get chilly and are usually wetter than the rest of the year. The best time to head to Vilamoura would be between the months of May and October as you avoid the rain and the weather is generally pleasant and nice.
Average high and low temperatures for each month (°C):
January: 16° / 8°
February: 17° / 9°
March: 19° / 10°
April: 20° / 11°
May: 23° / 14°
June: 26° / 17°
July: 29° / 19°
August: 29° / 19°
September: 27° / 18°
October: 23° / 15°
November: 20° / 11°
December: 17° / 9°