Top hotels in Lagos
A major port and capital of the Algarve for two centuries, Lagos is now an important tourist town and historically one of the area's most interesting places to visit. A mixture of ancient and modern with buildings dating as far back as 1445 combining with the stylish new marina, paved promenades and designer shops in quiet cobbled back streets. Nearby, superb beaches and coves welcome tourists to their golden sands and golf enthusiasts can play at any of the 3 courses in the vicinity. The marina provides different boat tours and deep sea fishing outings for water enthusiasts.
As Lagos is so popular, there are a range of different hotels that are suitable for every type of holidaymaker. Apartments are often a great choice in Lagos, thanks to the wide range that are on offer. Take a dip in the pool and enjoy the lush garden surroundings that so many of our top hotels in Lagos provide.
Looking for a flight and hotel? Then check out our holidays in Lagos here.
All Inclusive hotels in Lagos
Iberostar Selection Lagos Algarve - Adults only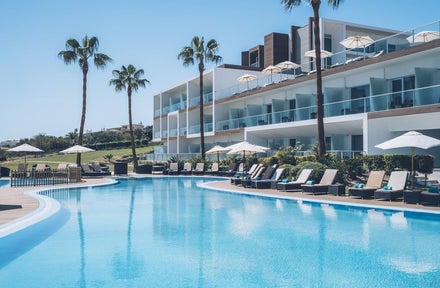 Iberostar Selection Lagos Algarve - Adults only
Lagos, Algarve
Luxury hotels in Lagos
Belmar Spa and Beach Resort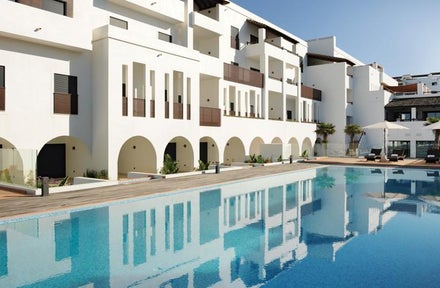 Belmar Spa and Beach Resort
Lagos, Algarve
Flight time to Lagos
The average flight time to Lagos from the UK is 2 hours 55 minutes.
Beaches in Lagos
Lagos has some of the most beautiful beaches you'll find, not just in Portugal but in the world. Portugal's southern region is well-known for its unique coastline boasting dramatic rock formations and seas bursting with different shades of blue. Many of these are also made up of coves as well as towering cliffs and clear waters. Whether you're looking to top up your tan, take a dip in the sea or you just want to experience a picturesque view, check out the following beaches in Lagos:
Praia Dona Ana
Camilo Beach
Meia Praia
Pinhao Beach
Praia da Batata
When to visit Lagos
The Algarve region as a whole is known to be hot during the summer months, in particular July and August. In addition, there will be a lot of crowds flocking to Lagos during the summer too. If you would prefer to experience milder temperatures, visit Lagos during April and June. Early autumn also shares a great climate; however, the winter months can get quite chilly.
Average monthly weather (°C):
January: 16° / 8°
February: 16° / 9°
March: 17° / 10°
April: 19° / 12°
May: 22° / 14°
June: 24°/ 16°
July: 25° / 17°
August: 26° / 18°
September: 25° / 17°
October: 23° / 15°
November: 19° / 11°
December: 17° / 9°