Top hotels in Albufeira
You'll find plenty on offer in the way of cheap hotels in Albufeira. This is one of the most popular resorts on the Algarve - the combination of cheap holiday apartments in Albufeira, large busy beaches and buzzing nightlife makes it a favourite with young and old alike. It offers great food and abundant entertainment, and a warm welcome to British visitors.
We offer a brilliant range of cheap holiday accommodation in Albufeira. And we are that rare thing – an online travel company that is a member of ABTA. So, whether you choose our holiday villas in Albufeira in the newer areas, or seek out more traditional small hotels in Albufeira Old Town, you can be sure of quality and value. You can be equally confident about self-catering in Albufeira when you book through us.
Looking for a flight and hotel? Then check out our holidays in Albufeira here.
Most popular hotels in Albufeira
Cheap hotels in Albufeira
All Inclusive hotels in Albufeira
Luxury hotels in Albufeira
Family hotels in Albufeira
Paladim & Alagoamar Hotel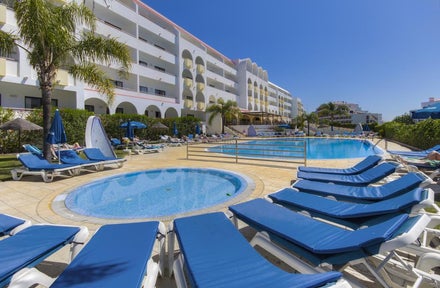 Paladim & Alagoamar Hotel
Albufeira, Algarve
Alfagar II Aparthotel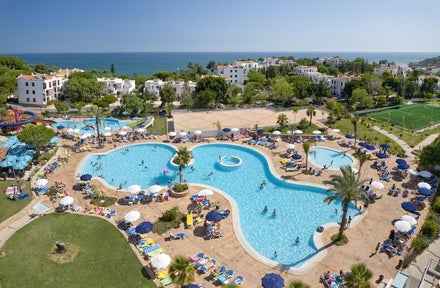 Alfagar II Aparthotel
Albufeira, Algarve
Flight time to Albufeira
The average flight time to Albufeira from the UK is 2 hours 55 minutes.
Beaches in Albufeira
One of the main attractions to Albufeira is its sandy beaches. With an abundance of beaches to choose from, you'll be spoilt for choice. Many are lined with nearby restaurants and eateries where you can enjoy typical Portuguese seafood cuisine. Moreover, some beaches have plenty of facilities and amenities to make your beach day more comfortable. Water sports is also a popular activity along Albufeira's beaches, where you can enjoy a dose of adrenaline on the jet skis or with a bit of windsurfing.
Praia dos Pescadores
Praia da Marinha
Praia da Rocha Baixinha
Praia de São Rafael
Falesia Beach
When to visit Albufeira
Albufeira belongs to the region of the Algarve which in turn enjoys the best weather within Portugal. Summers in Albufeira are hot making it the perfect time to visit the beach. If you'd prefer to visit during milder temperatures, the spring is the best time to go to Albufeira. During this period, you can still enjoy Albufeira as it is just heating back up again, making it a peaceful time to sightsee in the town. In addition, September and October are just as nice when visiting Albufeira for pleasant temperatures.
Average high and low temperatures for each month (°C):
January: 16° / 8°
February: 17° / 9°
March: 19° / 10°
April: 20° / 11°
May: 23° / 14°
June: 26° / 17°
July: 29° / 19°
August: 29° / 19°
September: 27° / 18°
October: 23° / 15°
November: 20° / 11°
December: 17° / 9°