Top hotels in Algarve
If you're looking at hotels in the Algarve, you probably already know that this region of Portugal offers some wonderful holiday accommodation. In the Algarve, you can enjoy some of the most beautiful of Portugal's scenery as well as the best of 5-star hotels and comfortable spacious holiday villas. In the Algarve, you can expect a great deal – and you won't be disappointed.
Stretching along many miles of golden coastline, there are a wide variety of hotels on offer in a host of very distinct Algarve resorts. From the main hub of Albufeira, you can stretch your wings either east or west, with each end of this fascinating region offering something very different. Towards the west, book yourself into a surf hotel for access to wild beaches, and in the east book yourself into a golf resort or beachside hotel with miles and miles of empty sands
Vilamoura is a resort favourite amongst those who regularly visit the Algarve. As a result, we have a great selection of Vilamoura hotels for you to choose from. Known for it's large marina, golf courses and casinos, it can be seen as the Marbella of Portugal.
Regardless of who you're travelling with, you will find a hotel in the Algarve of your choice. Anything from cheap villas and apartments, to all inclusive resorts, you can find it all at loveholidays.
Looking for a flight and hotel? Then check out our holidays in Algarve here.
Most popular hotels in Algarve
All Inclusive hotels in Algarve
Family hotels in Algarve
Tivoli Marina Portimao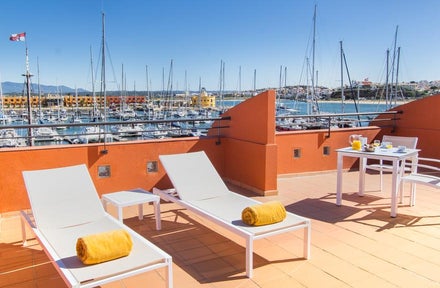 Tivoli Marina Portimao
Portimao, Algarve
Santa Eulalia Suite Hotel & Spa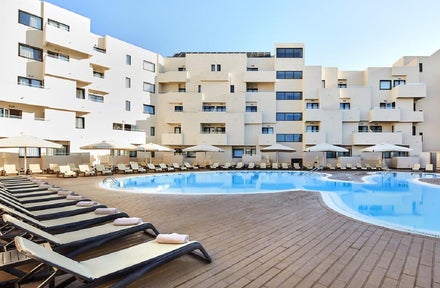 Santa Eulalia Suite Hotel & Spa
Albufeira, Algarve
Flight time to Algarve
The average flight time to Algarve from the UK is 2 hours 55 minutes.
Top destinations in Algarve
The Algarve is the most southern region in Portugal and it attracts loads of tourists every year. The attraction to the Algave is clear. Wonderful sandy beaches with fascinating rock formations. Quaint little towns with cafes and traditional restaurants. In addition, beautiful sights and scenery are also a trademark of this area in Portugal.
Popular destinations in Algarve include:
Albufeira
Vilamoura
Lagos
Portimao
Alvor
When to visit Algarve
The Algarve's positioning in the south of Portugal means it experiences great weather for the majority of the year. The summer months are really hot and busy due to the crowds of tourists who flock to the area. July and August can be swealtering, whilst the months of September and October are a lot more pleasant and cooler. Likewise the early spring months are mild.
Average high and low temperatures for each month:
January: 16° / 6°
February: 18° / 7°
March: 21° / 9°
April: 23° / 11°
May: 25° / 14°
June: 28° / 17°
July: 33° / 19°
August: 32° / 19°
September: 29° / 17°
October: 25° / 14°
November: 20° / 11°
December: 17° / 9°