Top hotels in Riviera Maya
Riviera Maya is the name given to 70 miles of white beaches and turquoise waters on the eastern side of Mexico. Here you'll experience everything from virgin isolated beaches to modern hotels, marinas, sports facilities and restaurants. In the south you'll find the main ecological reserve of the state, Sian Ka'an, remarkable for the richness of its flora and fauna Variety is the name of the game, as you can take part in everything from skydiving and watersports to golf and tennis, go on jungle tours by foot or on horse, or experience the astonishing Mayan culture.
One thing is for sure, there are plenty of hotels in Riviera Maya to choose from. If you're looking for a beachfront location, Mexico's Caribbean coastline doesn't disappoint. Riviera Maya hotels are filled with 5-star luxury resorts, so if you feel like treating yourself, you can't go wrong with one of Mexico's top destinations.
Looking for a flight and hotel? Then check out our holidays in Riviera Maya here.
Cheap hotels in Riviera Maya
All Inclusive hotels in Riviera Maya
Luxury hotels in Riviera Maya
Family hotels in Riviera Maya
Broncemar Beach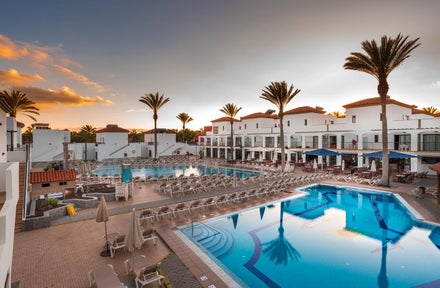 Broncemar Beach
Caleta de Fuste, Fuerteventura
Sol Pelicanos Ocas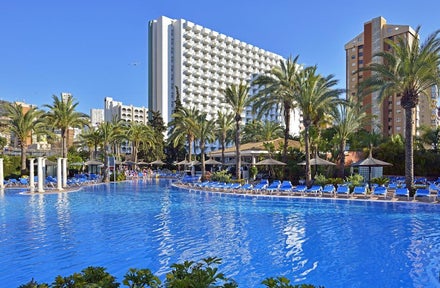 Sol Pelicanos Ocas
Benidorm, Costa Blanca
Flight time to Rivera Maya
The average flight time to the Riviera Maya from the UK is 10 hours 20 minutes.
Beaches in Riviera Maya
Thanks to Riviera Maya's long stretch of coastline, it comes as no surprise that many of its beaches are some of the best you'll see. White sandy shores, crystal clear waters and the hot sun beaming down on you… what more could you ask for? Riviera Maya's beaches are the best place to relax and rejuvenate during your holiday, so make sure these are on your list:
Akumal Beach
La Playa Xpuha
Mayan Beach
Playa Paraiso
Playa Punta Esmeralda
When to visit Riviera Maya
The Riviera Maya is well-known for its sunshine and warm climate, making it a popular Mexican resort. The spring time is the best time to visit the Riviera Maya due to its warm weather. On the other hand, the period covering May to November constitutes as Riviera Maya's wet season. There'll still be warm temperatures, but it will be more liable to rain. So, if you choose to travel to the Riviera Maya during the summer months, make sure you're prepared for the rain!
Average monthly weather (°C):
January: 27° / 20°
February: 28°/ 21°
March: 29°/ 21°
April: 30° / 23°
May: 31° / 25°
June: 32° / 25°
July: 32° / 25°
August: 32° / 25°
September: 31° / 24°
October: 30° / 24°
November: 29° / 23°
December: 28° / 21°