Top hotels in Gozo
Whether you want cheap hotels in Gozo, holiday apartments in Gozo or other kinds of self-catering or hotel accommodation in Gozo, we have the right deal for you on this tranquil, sun-baked Mediterranean island. Even if it's short breaks in apartments in Gozo, summer fortnights away or luxury hotels in Gozo, our accommodation options promise you the perfect holiday in Gozo.
Looking for a flight and hotel? Then check out our holidays in Gozo here.
Cheap hotels in Gozo
St Patricks Hotel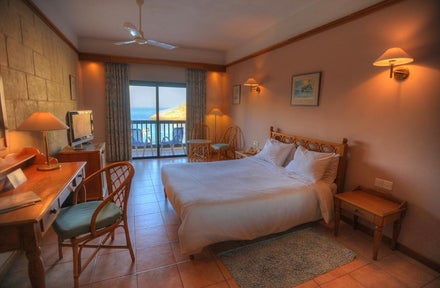 St Patricks Hotel
Xlendi, Gozo
Our villa holidays in Gozo are perfect for anyone looking to escape the hustle and bustle of modern life. Gozo's inhabitants, Gozitans, have done a great job keeping the island of Gozo much as it has been for centuries. Gozo is an island of beautiful churches, unspoilt rural villages, sheltered coves and ruggedly beautiful scenery. Best of all our Gozo villas blend seamlessly into this timeless landscape and provide the perfect base for you to explore.Gozo is steeped in history and, should you wish, your Gozo villa can be your gateway to ancient megalithic temples, spectacular churches and numerous artefacts of the Knights of St John. There again you might prefer snorkelling amid the azure blue inlets of Gozo's beautiful coastline or just taking things nice and easy next to the pool of your Gozo villa.