Top hotels in Malta
It is easy to see why Malta is such an idyllic destination, incorporating stunning countryside, quaint harbours and colourful luzzus, magical caves, azure waters and sheer tranquility. Malta is a great location when it comes to discovering historic sites due to the influence left from the Romans and Moors, to name a few. An ideal location for family or couples, there are a bunch of hotels and resorts which will make your stay in Malta one to remember.
With our hotels in Malta, there is something to suit every holidaymaker. Whether you're looking for a fantastic family hotel or a luxuorious resort, you'll be sure to find it on loveholidays.com. Perhaps a wonderful all inclusive hotel in Malta is more up your street? Well, we have a variety of options for you to choose from!
Looking for a flight and hotel? Then check out our holidays in Malta here.
Most popular hotels in Malta
All Inclusive hotels in Malta
Luxury hotels in Malta
Bella Vista Hotel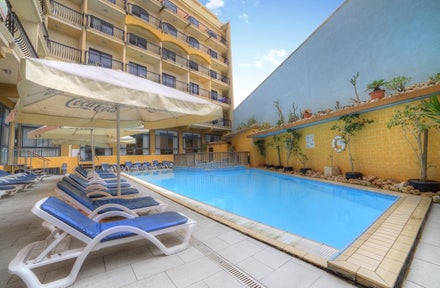 Bella Vista Hotel
St Paul's Bay,
Salini Resort
Salini Resort
St Paul's Bay,
Flight time to Malta
The average flight time to Malta is 3 hours from the UK.
When to visit Malta
Between May and October the average daily temperature in Malta hovers between just below 25c and a shade over 30c, no wonder holidays in Malta are so popular. However, Malta is also a great winter destination, especially if you're looking for an active holiday. The winter months provide a much cooler temperature. The most rainy months in Malta are towards the end of the year, during November and December.
Average high and low temperatures for each month are:
January: 16° / 9°
February: 16° / 9°
March: 17° / 10°
April: 20° / 12°
May: 24° / 15°
June: 28° / 19°
July: 31° / 22°
August: 31° / 22°
September: 28° / 20°
October: 25° / 18°
November: 21° / 14°
December: 17° / 11°
Things to do in Malta
Some other reasons why holidays in Malta are popular include: brilliant diving, fabulous cave networks, the beautiful capital of Valletta and some excellent hotels. When it comes to value for money, Malta delivers. Malta's capital of Valletta has so much to offer, especially when it comes to history and culture. Classic Baroque cathedrals both offer fantastic sights through its grand architecture. Scenic views can be found all around. The Maltese island of Gozo is also a very popular tourist destination with its natural lagoons, cliffs and beaches. Its the best spot for under water excursions and activities.
Things to do in Malta include:
Valleta
Saint John's Co-Cathedral
Grand Harbour
Upper Barraka Gardens
Gozo
The Azure Window
Inland Sea
Ggantjia​
Nightlife in Malta
Amongst the nightlife in Malta, you will find a variation of bars, restaurants, casinos and clubs. These are mainly dotted about the Paceville and St. Julian's areas. So, you're bound to find the perfect spot to unwind with a cocktail or two, or even dance the night away!
Great bars, clubs and restaurants in Malta include:
Havana
Sky Club Malta
Q Bar & Restaurant Malta
Hugo's Lounge