Top hotels in Sardinia
This island of the coast of Italy is jam-packed full of history and culture. On top of that, the island is home to its exclusive "Emerald Coast", offering deep blue waters and vast stretches of sand. When you're not basking in the hot sun and making the most of the picturesque beach views, venture around the island's capital of Cagliari. For those with a competitive edge, head down to one of the many golf courses in Sardinia, where you can test your skills against fellow players.
The great thing is that there are plenty of top hotels in Sardinia to choose from when it comes to your holiday on the island. Sardinia specialises in luxury hotels and apartments, so the hardest decision you'll have to make for your trip to the island is where to stay.
Looking for a flight and hotel? Then check out our holidays in Sardinia here.
Family hotels in Sardinia
Grande Baia Resort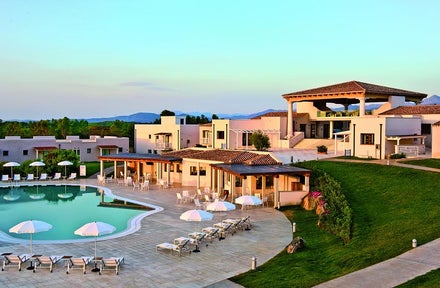 Grande Baia Resort
San Teodoro, Sardinia
Flight time to Sardinia
The average flight time to Sardinia from the UK is 2 hours 40 minutes.
Things to do in Sardinia
Sardinia is fantastic when it comes to natural beauty and sights. Whether you're staring out at the dramatic cliffs or exploring the island's caves, Sardinia has plenty to offer. Ancient sites aren't hard to come by on the island either, so exploring Sardinia's past is always a fascinating activity. Discover complexes dating back to 2000 B.C. During your getaway to this Italian island, make sure to check out these top things to do:
Neptune's Grotto
Capo Caccia
Su Nuraxi
Gorropu Gorge
Cagliari Cathedral
Beaches in Sardinia
Sardinia is a great holiday destination if you're looking to spend your time on the beach. Sardinia's beaches are perfect, no matter what you plan on doing. White, sandy shores are great for those long strolls or even to soak up the sun as you sunbathe. On the other hand, the clear blue waters are great for cooling off and having a swim.
Cala Goloritzé
Cala Luna
Capo Testa
Bombarde Beach
Cala Brandinchi