Top hotels in Rome
Hotels in Rome give you access to one of the most romantic destinations in the world, coming top of the list again for couples holidays and city breaks in 2018.
Booking a hotel in Rome is an obvious choice if you're looking for a holiday in Italy, that provides everything from ancient history to world-class cuisine. Explore the cobbled streets around the Piazza Navona, circumnavigate the Colosseum and other historical sights, and enjoy hand-in-hand rambling along the Via Veneto and the Trastevere neighbourhood, in and out of the hustle and bustle of Italy's capital.
A city with both a historical centre and a suburban outer rim, there are a wide range of hotels in Rome. Therefore, picking a hotel in Rome really depends on your budget and how accessible you'd like the top sites to be. You can book a hotel on the outskirts of Rome with close links to local transport options if you're looking for a cheap holiday, or go all-out on a 5-star classical hotel in the hub of all the action.
Looking for a flight and hotel? Then check out our holidays in Rome here.
Most popular hotels in Rome
Bed and Breakfast hotels in Rome
Roma Camping In Town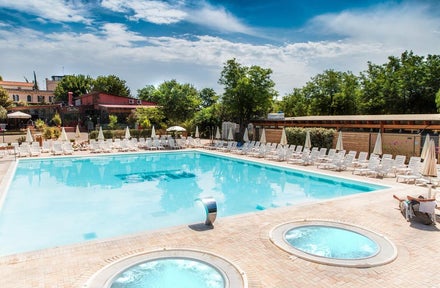 Roma Camping In Town
Rome,
Flight time to Rome
The average flight time to Rome from the UK is 2 hours 30 minutes.
Rome hotels for all types of holidays and breaks
Rome isn't only a romantic destination. This city is also perfect for family holidays. Best to travel during the cooler months, as the heat and bustle of a major city can be a bit full-on if you're leading kids around a major city. A good place to book a hotel might be close to the Roma Termini railway station, so you can get about easily, and to and from the airport without much hassle.
But the kids will love the history and the Roman reenactments, plus Italian food? Pizza and pasta? It's a cuisine made for fussy eaters. The Italians are keen on family and you'll feel welcome wherever you go.
Things to do in Rome
By the far most popular area in Rome is the Trastevere district. A much-loved area which lies on the west bank of the river Tiber, south of the Vatican, Trastevere is a charming neighbourhood with cobbled streets and street cafes. It's worth staying close to popular attractions in Rome. The Spanish Steps are a good choice because of their proximity to a lot of local transport options. Or even the famous and beautiful St. Peter's Basilica.
Wonderful things to do in Rome include:
Trastevere District
The Spanish Steps
Trevi Fountain
St. Peter's Basilica
Colloseum
Roman Forum
Piazza Navona
Piazza del Popolo