Top hotels in Lake Garda
Beautiful hills and the largest lake in Italy create the backdrop for Lake Garda. As well as boasting a warm Mediterranean climate, clear waters, olive groves and quaint towns are all part of the deal when it comes to booking your holiday to Lake Garda. This part of Italy is perhaps one of the most picturesque, making it a favourite amongst many when it comes to Mediterranean holidays. Lake Garda is also a great location for those who are looking to take part in water sports, hiking and even skiing.
Many resorts within Lake Garda offer wonderful accommodation. Luxury hotels and 5-star options are awaiting among other affordable choices. Whatever you may be looking for when it comes to staying in Lake Garda, the options are endless.
Looking for a flight and hotel? Then check out our holidays in Lake Garda here.
Cheap hotels in Lake Garda
All Inclusive hotels in Lake Garda
Leonardo Da Vinci Hotel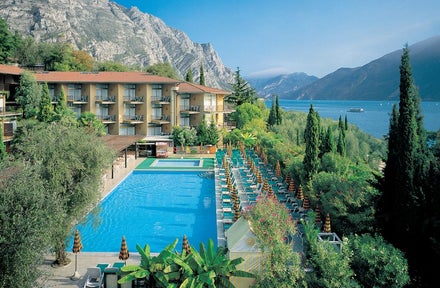 Leonardo Da Vinci Hotel
Limone sul Garda, Lake Garda
Luxury hotels in Lake Garda
Palace Hotel
Palace Hotel
Desenzano, Lake Garda
Flight time to Lake Garda
The average flight time to Lake Garda from the UK is 2 hours.
Things to do in Lake Garda
If you're travelling to Lake Garda, there's always plenty to do. The natural sights take up a huge fraction of what's on offer in the region as well as amazing architecture and ancient ruins. Lake Garda holidays have an array of things suited to the kids too, making it the perfect spot for a family-friendly Italian getaway.
Gardaland
Scaligero Castle
Monte Baldo
Canevaworld
Isola del Garda
Lago di Tenno
When to visit Lake Garda
Lake Garda is simply stunning during the summer as temperatures remain steady throughout. On the other hand, if you'd rather experience milder temperatures, head to Lake Garda in the spring. During this period, the weather isn't too hot or too cold and it is also one of the quieter times of the year due to fewer crowds visiting around this time. Winter in Lake Garda can be quite chilly and sometimes quite windy. Thanks to the area's surrounding mountains, Lake Garda remains sheltered from stronger wind and rainfall.
Average monthly weather (°C):
January: 6° / 0°
February: 9°/ 1°
March: 14° / 5°
April: 19° / 10°
May: 23° / 14°
June: 27° / 18°
July: 30° / 20°
August: 29° / 19°
September: 25°/ 16°
October: 18° / 11°
November: 12° / 6°
December: 7° / 0°