Top hotels in Laganas
Lying on a scenic bay on the southern shores of the island, Laganas is Zante's biggest and brightest resort. It's probably got the finest beach; a five-mile sweep of sands shelving into calm, warm seas. The beach is a nocturnal nesting place for the rare loggerhead turtles and in order to protect them, is out of bounds at night. The town has a range of tavernas, bars and shops. After dark the town livens up with high-tempo music bars, clubs and discos staying open into the small hours.
As Laganas is such a popular resort town in Zante, there are plenty of hotels to choose from. Looking for an all inclusive resort? Or perhaps you'd rather go down the self catered route? Whatever your budget may be, we have loads of hotels in Laganas for you to choose from. Use of smart search filters to narrow down your choices of hotels, until you find something that is right up your street.
Looking for a flight and hotel? Then check out our holidays in Laganas here.
All Inclusive hotels in Laganas
Family hotels in Laganas
Alexander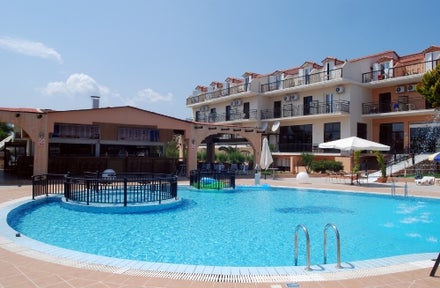 Flight time to Laganas
The average flight time to Laganas from the UK is 3 hours 30 minutes.
Nightlife in Laganas
Laganas is well-known for its energetic nightlife and is one of the top party destinations in Zante. Attracting loads of young people to the resort, the summer is definitely a popular time for Laganas when The Strip is full of music and action. The Strip is a long stretch of a street which is packed with bars, pubs and clubs. The great thing is that as well as having a good time in Laganas, the nightlife is also cheap.
Top nightlife hotspots in Laganas includes:
Zero's
Linekers
Rescu
Plus
Waikiki
When to visit Laganas
Laganas basks in sunshine for the majority of the year making its Mediterranean climate something to envy. Due to the number of beaches available in Laganas, the weather is perfect for ultimate relaxation on its sandy shores, especially during the spring as temperatures are high enough to have a great time but not too uncomfortable. The hottest time of the year in Laganas is between June and September, so if you prefer hotter temperatures, the summer would be the best time for you to visit. From October onwards, the weather begins to cool down and temperatures start to drop. There is also a higher change of rain throughout autumn and winter, with December bringing in the most rain for the year.
Average high and low temperatures for each month (°C):
January: 14° / 8°
February: 15° / 8°
March: 16° / 9°
April: 19° / 11°
May: 25° / 14°
June: 30° / 18°
July: 32° / 21°
August; 33° / 21°
September: 28° / 18°
October: 24° / 15°
November: 19° / 12°
December: 16° / 9°