Top hotels in Skiathos
Whatever style of accommodation in Skiathos you're looking for, we've got everything you need to get the best from this beautiful, pine-covered Greek isle. We've got places to suit sun-worshippers, country-lovers and night owls, from apartments and cheap hotels in Skiathos Town and its surrounds to luxury hotels in Skiathos' interior and bordering its beaches.
Looking for a flight and hotel? Then check out our holidays in Skiathos here.
Most popular hotels in Skiathos
Luxury hotels in Skiathos
Mandraki Village Boutique Hotel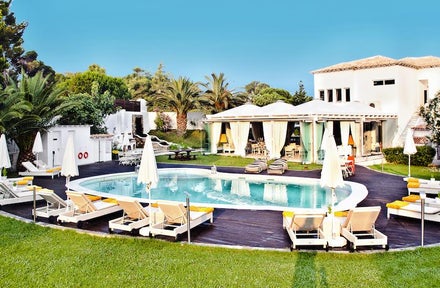 Mandraki Village Boutique Hotel
Koukounaries, Skiathos
Skiathos Palace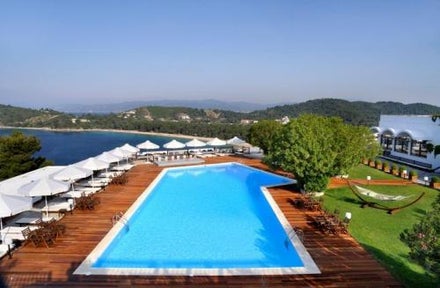 Skiathos Palace
Koukounaries, Skiathos
Flight time to Skiathos
The average flight time to Skiathos from the UK is 3 hours 45 minutes.
Beaches in Skiathos
Skiathos is home to some beautiful beaches in the Greek Islands. If you're looking to participate in water excursions and activities, you can do a lot of sailing here. Or perhaps you'd rather lay back and soak up the hot sun and take a dip in the cooling waters.
Top beaches in Skiathos include:
Koukounaries
Lalaria
Banana
Kanapitsa
Agia Paraskevi
Vromolimnos
Ahladies
Kolios
When to visit Skiathos
If you want great weather during your Skiathos holiday, the best time to visit would be during the summer months. June through to September offer a fantastic hot climate, perfect for a summer getaway. The low season during November to March means accommodation will be cheaper. However, for the best beach holiday, the summer time is ideal.
Average high and low temperatures for each month:
January: 12° / 8°
February: 12° / 8°
March: 14° / 11°
April: 17° / 13°
May: 22° / 18°
June: 27° / 22°
July: 29° / 24°
August: 29° / 24°
September: 25° / 20°
October: 21° / 17°
November: 17° / 13°
December: 13° / 9°