Top hotels in Santorini
Santorini is one of the most well-known Greek Islands to visit. Full of whitewashed houses and grand churches topped with blue dome roofs, the island is bright and loaded with culture. The two popular towns of Fira and Oia perch atop tall cliffs, high above the underwater caldera below. A perfect location for a couples holiday, Santorini oozes a romantic atmosphere with its traditional culture, Blue Flag beaches and stunning sunsets in Oia. A Greek Island which exudes luxury and romance is surely worth a spot on your holiday hitlist.
Santorini has a large collection of hotels to choose from. There are a range of 5-star resorts and luxurious boutique hotels at their finest. Some will provide you with the best views you've ever seen, perfect to wake up to in the mornings. Santorini hotels are equipped with all the trimmings, providing you with convenient facilities and amenities on site. Use our search filters to narrow down your options until you find a Santorini hotel that fits the mould.
Looking for a flight and hotel? Then check out our holidays in Santorini here.
Most popular hotels in Santorini
Cheap hotels in Santorini
Luxury hotels in Santorini
Family hotels in Santorini
Aegean Plaza Hotel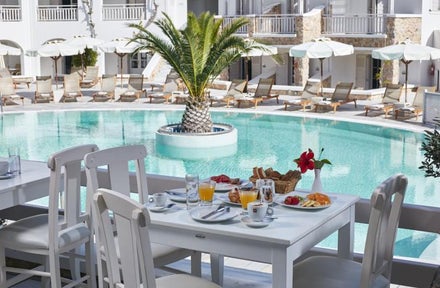 Aegean Plaza Hotel
Kamari, Santorini
Flight time to Santorini
The average flight time to Santorini from the UK is 3 hours 50 minutes.
Beaches in Santorini
There is plenty to explore in Santorini, however one of the main attractions to the Greek Island is its beaches. Many of the beaches have fine sand and blue waters, making them family friendly and relaxing spots. Due to Santorini's geological past with volcanos, the island is home to black sand beaches. You'll find sunbeds on many of them and nearby restaurants which are great to grab a bite to eat when you're feeling a little peckish.
Great beaches in Santorini include:
Kamari Beach
Perissa Beach
Perivolos Beach
Red Beach
Ammoudi Bay
When to visit Santorini
The weather is fantastic in Santorini, especially during the summer months. But, as you can imagine, many tourists flock to the island during the summer, in order to enjoy its Mediterranean climate. Aside from summer, the best time to visit Santorini would be during May or September. During these times the weather is still warm but there are fewer crowds.
Average high and low temperatures for each month (°C):
January: 14°/ 10°
February: 14° / 10°
March: 15° / 11°
April: 18° / 13°
May: 22° / 16°
June: 27° / 20°
July: 29° / 23°
August: 29° / 23°
September: 26°/ 20°
October: 22° / 17°
November: 18° / 14°
December: 15° / 11°