Top hotels in Kos
Kos is a very popular Greek Island attracting many visitors per year. Well known for its sandy beaches and Greek and Roman landmarks, there is something here for the history fanatics and the beach bums. Due to the popularity of the resort, there are a lot of hotels in Kos. So, as you can imagine you have a wide selection to choose from when it comes to booking that well-deserved holiday to Kos.
This diverse range of hotels in Kos means everything you could possibly want is covered. Whether you're looking for a self catering acommodation or an all inclusive resort, you'll find it all on this Greek Island.
By choosing our online site, you can be sure of finding all inclusive hotels in Kos that combine exceptional value with complete peace of mind. And whether you're after cheap holiday villas in Kos, a family apartment or a luxury hotel our choice is yours! We've handpicked all our luxury and cheap accommodation in Kos for quality and value.
Looking for a flight and hotel? Then check out our holidays in Kos here.
Most popular hotels in Kos
All Inclusive hotels in Kos
Luxury hotels in Kos
Mitsis Ramira Beach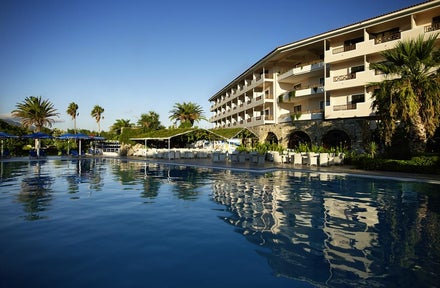 Mitsis Ramira Beach
Psalidi, Kos
Michelangelo Resort & Spa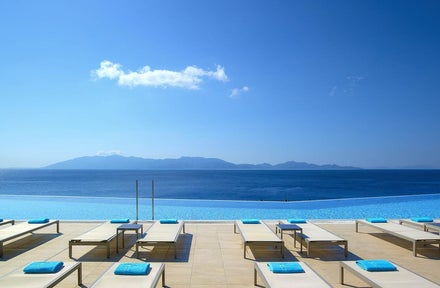 Michelangelo Resort & Spa
Aghios Fokas, Kos
Family hotels in Kos
Gaia Village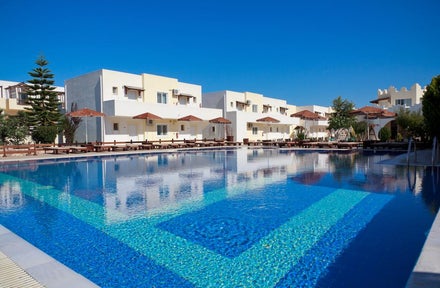 Grecotel Royal Park
Grecotel Royal Park
Marmari, Kos
Flight time to Kos
The average flight time to Kos from the UK is 4 hours.
Top things to do in Kos
Kos has wonderful beaches to explore, as well as ancient Greek ruins which will take you back in time. Kos also plays a huge role in Greek mythology, in particularly when it comes to Hippocrates - 'the father of western medicine'. With such a rich culture and history present on this Greek island, theres no wonder that it is full of great things to do.
Top things to do in Kos include:
Tree of Hippocrates
Neratzia Castle
Paradise Beach
Lido Water Park
Archaeological Museum of Kos
Ancient Agora
Roomalainen talo
Plaka Forest
Nightlife in Kos
Interested in experiencing the Kos nightlife? Well luckily, it is a lively island once the sun goes down, especially during the summer time. The two main hubs for Kos nightlife are based around the Diakon and Nafklirou streets. On these two streets, you'll find the majority of bars and nightclubs. Also, around the island's capital of Kos Town, there are many nightclubs and bars.
Some fun bars and nightclubs in Kos include:
West Bar
The Camel Bar
Mylos
Jackson's Beach Bar
Sitar
H2O