Top hotels in Malia
Malia is made for sun and fun-lovers. Lively day and night, it's designed for out-and-out holidaymaking and attracts a young crowd as a result. The main hub here is the street that leads down to the beach from the main road, which is home to buzzing shops, restaurants, bars and nightspots. At the end, you'll discover Malia's main claim to fame: a fabulous 2-kilometre expanse of golden sands complete with a great range of watersports. If you do fancy a spot of culture while you're here, the ruins of an ancient Minoan palace await just outside town.
Popularised amongst youngsters, you'll find many affordable apartments in Malia as well as upscale hotels and resorts. Depending on the purpose of your trip and your budget, you may prefer to go down the self catering route. Filter down your search on our website to find the best property suited to you and your stay in Malia.
Looking for a flight and hotel? Then check out our holidays in Malia here.
All Inclusive hotels in Malia
Family hotels in Malia
Kristalli Hotel Apartments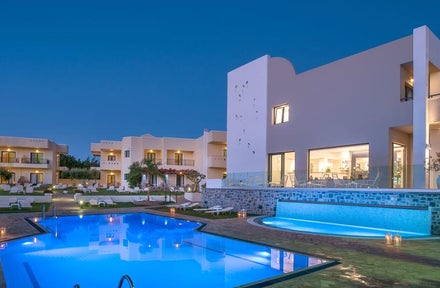 Kristalli Hotel Apartments
Malia, Crete
Flight time to Malia
The average flight time to Malia from the UK is 4 hours 10 minutes.
Nightlife in Malia
Malia is famous for its nightlife, mainly amongst young adults. With beach parties, clubs and bars, there's plenty of action to be had on the northeastern tip of Crete. There are many well-known DJs who perform in Malia during its huge party season. Malia Beach Road is the main strip full of bars and clubs. Most of them only begin to open after midnight, so it's popular to start your night out at one of the bars before heading to the clubs. With fun foam parties and regular performers, it's easy to see why Malia holidays are so trendy when it comes to nightlife.
Top bars and clubs in Malia include:
Camelot
Candy Club
Banana Club
Zoo Bar
Petrino
When to visit Malia
Malia basks in a hot, Mediterranean climate, meaning sunshine and hot temperatures are to be expected for the majority of the year. The summer is the best time to visit Malia for a couple of reasons. Not only is the weather great due to its soaring temperatures, but the nightlife is in full action and pumping throughout the summer time. On the other hand, the winter is the coolest time to visit Malia and there is also a higher chance of rain. Visit during the spring and autumn if you'd prefer to experience more pleasant weather during your Malia holiday.
Average high and low temperatures for each month (°C):
January: 15° / 9°
February: 16° / 9°
March: 17° / 10°
April: 20° / 12°
May: 23° / 15°
June: 27° / 19°
July: 29° / 22°
August: 29° / 22°
September: 27° / 20°
October: 23° / 17°
November: 20° / 13°
December: 17° / 11°