Top hotels in Greece
Holiday villas in Greece must be one of the most pleasant ways to discover this uniquely beautiful destination. We specialise in quality family holiday villas in Greece, as well as apartments and hotels. In Greece, even Greek visitors never get tired of the landscapes. There are nearly 6,000 islands with a huge variety of beaches, bays, coves and dunes.
This is an incredibly relaxed place to have a holiday. Which is possibly why so many people choose self-catering. In Greece, time has its own way of unfolding, and many visitors prefer to just go with the flow, eating and drinking when the mood takes them rather than following any kind of conventional timetable. Of course, we can also offer a wide range of cheap hotels in Greece with flexible dining options including bed & breakfast, half board, full board and all-inclusive. Hotels in Greece come in all shapes and sizes – enjoy browsing through our enviable selection.
Looking for a flight and hotel? Then check out our holidays in Greece here.
All Inclusive hotels in Greece
Family hotels in Greece
Bomo Club Olympus Grand Resort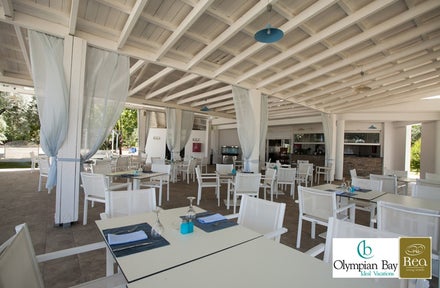 Bomo Club Olympus Grand Resort
Leptokarya, Thessaloniki
Theoxenia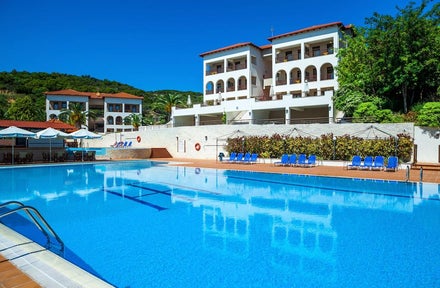 Theoxenia
Ouranoupolis, Halkidiki
Flight time to Greece
The average flight time to Greece from the UK is 3 hours 35 minutes.
Things to do in Greece
Greece is a relaxing holiday destination with a fantastic climate to enjoy. Offering you a truse taste of the Mediterranean. Greece is also a country full of history and rich culture. Tourists can come across UNESCO sites and sets of old ancient ruins. Go back in time with visits to Athenian temple ruins and plazas where you can enjoy traditional little cafes and restaurants.
Great things to do in Greece include:
Acropolis of Athens
Meteora
Parthenon
Acropolis Museum
Syntagma Square
Temple of Olympian Zeus
Mycenae
Sounion
When to visit Greece
Greece can experience soaring temperatures, particularly in the summer, along with loads of crowds of tourists who choose to flock to Greece for their summer holidays. Visit just before or just after summer, when you can still enjoy the warm weather and you get to miss the overpowering crowds. The winters here can often be cold and the least sunny time of the year.
Average high and low temperatures for each month:
January: 13° / 7°
February: 14° / 7°
March: 17° / 9°
April: 20° / 12°
May: 25° / 16°
June: 30° / 21°
July: 33° / 24°
August: 34° / 24°
September: 29° / 20°
October: 24° / 16°
November: 19° / 12°
December: 15° / 9°