Top hotels in Dominican Republic
When looking to holiday in an exotic location, you think of the Caribbean. Where do you go from there? Well, let us tell you, the Dominican Republic is a fantastic choice for that exotic, Caribbean holiday. With an abundance of Dominican Republic hotels, you're bound to find just what you're looking for.
With a choice of hotels ranging from apartments in the capital, Santo Domingo, or beachside super resorts, we're to help you pick the right Dominican Republic hotel for your next Carribean holiday. The Dominican Republic, which shares the island of Hispaniola with Haiti to the west, is a Caribbean country with very diverse regions. Along its coastline are stretches of beautiful beaches, whereas inland there are mountain peaks and waterfalls. Looking for a beautiful beachfront hotel in the Dominican Republic? Many visitors flock to the resort of Punta Cana, where you will find an abundance of hotels in the area.
Beyond its varied geography lies a country with its heart in the festive Caribbean culture. Expect carnivals and street-side dining in front of colonial architecture, parties and wining and dining in the warm Caribbean evenings, and a friendly atmosphere which makes the Dominican Republic ideal for family or romantic getaways.
Looking for a flight and hotel? Then check out our holidays in Dominican Republic here.
Cheap hotels in Dominican Republic
All Inclusive hotels in Dominican Republic
Luxury hotels in Dominican Republic
Family hotels in Dominican Republic
Grand Sirenis Punta Cana Resort Casino & Aquagames - All Inclusive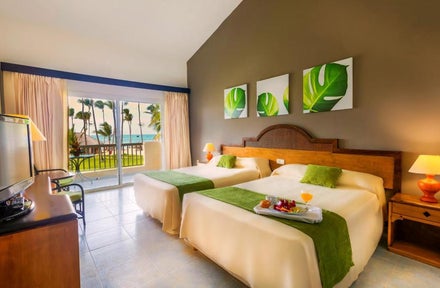 Grand Sirenis Punta Cana Resort Casino & Aquagames - All Inclusive
Punta Cana, Punta Cana
Luxury Bahia Principe Fantasia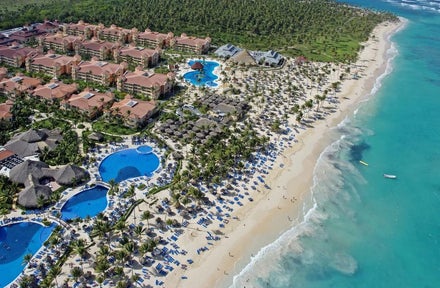 Luxury Bahia Principe Fantasia
Punta Cana, Punta Cana
Flight time to Dominican Republic
The average flight time to Dominican Republic from the UK is 9 hours 15 minutes.
Things to do in Dominican Republic
The beautiful Caribbean island of the Dominican Republic is full of stunning turqoise blue beaches which attracts loads of tourits every year. There are wonderful green mangrove forests on the island and small bays which are great for whale watching amongst other activites. The Dominican Republic is a huge golfing location, offering many golf courses over the island, with Punta Cana hosting one of the most popular - teeth of the dog.
Fun things to do in Dominican Republic include:
Bavaro beach
Catalina Island
Los Haitises National Park
Samana Bay
Los Tres Ojos
Bahia de las Aguilas
27 Waterfalls
Ocean World Adventure Park
When to visit Dominican Republic
There isn't really a bad time to book a holiday to the Dominican Republic. The weather is fantastic all year round which is perfect for beach lovers. Tourism is of course high during the summer, especially during July and August. The winter season which runs from December to February sees a drop in tourism, but temperatures are at their optimum as they are more pleasant that the summer. The Dominican Republic does have a hurricane season during the period of June - November. So the island is suceptible to major storms, especially in August and September.
Average high and low temperatures for each month:
January: 29° / 20°
February: 29° / 20°
March: 30° / 20°
April: 30° / 21°
May: 31° / 22°
June: 31° / 23°
July: 32° / 23°
August: 32° / 23°
September: 32° / 23°
October: 31° / 23°
November: 31° / 22°
December: 30° / 21°