Top hotels in Protaras
The resort itself spreads over 16 kms of coastline, most of it fringed by stunning bays and little idyllic coves. Watersports and scuba-diving are permanent fixtures, although generally the air is one of unbroken relaxation and tranquillity. You'll find shops, restaurants and tavernas aplenty. A number of pubs, lively bars and two discos are the source of some friendly night-life. The friendly, family atmosphere strikes an appealing balance between relaxation and buzz making Protaras an appealing holiday hotspot.
Our top hotels in Protaras include a wide range of popular resorts and beachfront hotels. More affordable options include self catered apartments and guesthouses. No matter the type of accommodation that you're looking for during your Protaras holiday, you'll be sure to find it here on loveholidays.
Looking for a flight and hotel? Then check out our holidays in Protaras here.
All Inclusive hotels in Protaras
Luxury hotels in Protaras
Vangelis Hotel & Suites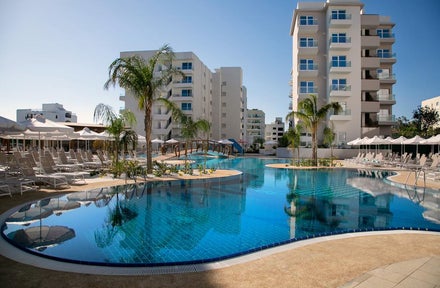 Vangelis Hotel & Suites
Protaras,
Anastasia Beach Hotel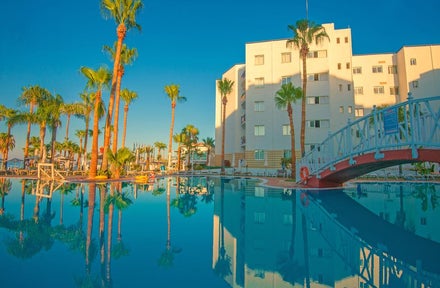 Anastasia Beach Hotel
Protaras,
Family hotels in Protaras
Flight time to Protaras
The average flight time to Protaras from the UK is 4 hours 35 minutes.
Beaches in Protaras
Protaras is a lovely holiday destination, especially for those looking for a beach holiday. The beaches in Protaras offer idyllic settings with plenty to do. Its very easy to spend the day on these beaches due to the huge number of activities that can be done. Whether you simply want to sunbathe or splash around in the sea, there are suitable beaches for that, thanks to the crystal clear waters and fine sand beaches that can be found in this area. On the other hand, if you'd like to try out some water sports, there are a range of activities to choose from. With Blue Flag beaches in Protaras, you're sure to have a wonderful time.
Fig Tree Bay
Konnos Beach
Nissi Beach
Sunrise Beach
Pantachou Beach
Kalamies Beach
When to visit Protaras
Protaras has a fantastic Mediterranean climate, meaning whenever you choose to visit the resort town, you'll get to experience lovely weather. The best time to visit Protaras is in the summertime, which is when temperatures begin to soar, reaching highs of the mid 30's. During this time, the beach is perfect as it basks in the hot sunshine. It's also a great time for swimming at the beach as the sea temperature is bliss.
Average high and low temperatures (°C):
January: 16° / 7°
February: 17° / 7°
March: 19° / 9°
April: 22° / 12°
May: 26° / 16°
June: 30° / 20°
July: 33° / 23°
August: 33° / 24°
September: 31° / 20°
October: 27° / 16°
November: 23° / 12°
December: 18° / 8°