Top hotels in Limassol
On Cyprus' south coast, Limassol blends old-world charm with great tourist attractions, from stunning beaches and history to energetic nightlife. Set around a deepwater harbour, the lively old centre boasts a fine 14th century museum-castle and streets overflowing with traditional shops and markets. There's an amazing array of restaurants and tavernas serving all kinds of cuisine and in the modern tourist district of Yermasoyia, masses of cosmopolitan eateries, bars and nightclubs that stay open late.
In addition to what goes on in Limassol, there are a wonderful selection of hotels to choose from too. If you're looking to stay right on the beach, there's hotels for you. If you want luxury 5-star accommodation, there's hotels for you. Whatever it is you're looking for, there are a wide range of Limassol hotels to suit your taste and budget.
Looking for a flight and hotel? Then check out our holidays in Limassol here.
All Inclusive hotels in Limassol
St Raphael Resort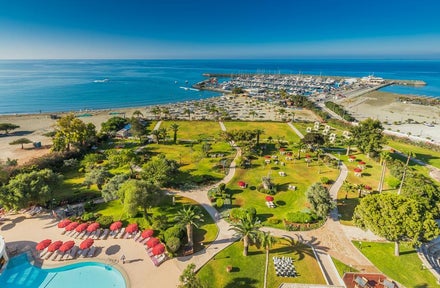 St Raphael Resort
Limassol,
Elias Beach Hotel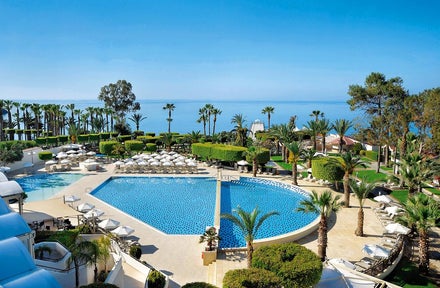 Elias Beach Hotel
Limassol,
Luxury hotels in Limassol
Mediterranean Beach Hotel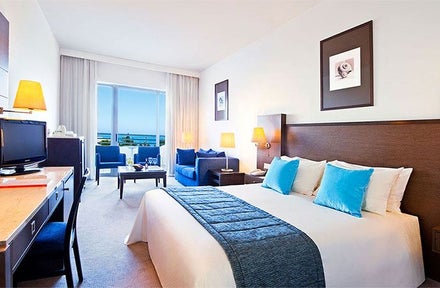 Mediterranean Beach Hotel
Limassol,
Four Seasons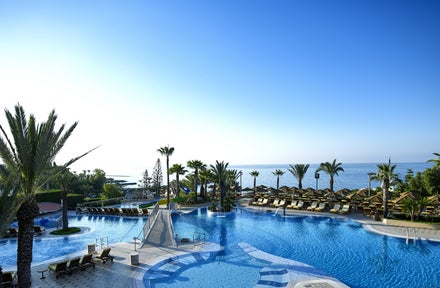 Flight time to Limassol
The average flight time to Limassol from the UK is 4 hours 35 minutes.
Things to do in Limassol
Limassol isn't just a great location for beaches in Cyprus as there are plenty of other fun things to see and do in the area too. There is a bit of culture in Limassol to be witnessed, thanks to its medieval castles and museums. On the other hand, if you're travelling with the kids in tow, there are loads of fun activities for them to enjoy too.
Limassol Castle
Limassol Zoo
Fasouri Watermania
Limassol Archaeological Museum
Cyprus Land
When to visit Limassol
Limassol is generally a sunny location all year round. The summer still remains to be the hottest time of the year, experiencing the highest temperatures. Moreover, there aren't many rainy days in Limassol either, especially during the summer. On the other hand, the autumn remains another great time of year to travel to Limassol, as the temperatures are still warm, and the crowds will be fewer compared to the summer time.
Average monthly weather (°C):
January: 17° / 9°
February: 17° / 9°
March: 19° / 10°
April: 22° / 13°
May: 26° / 17°
June: 30° / 21°
July: 32° / 23°
August: 32° / 23°
September: 30° / 21°
October: 27° / 18°
November: 22° / 12°
December: 18° / 9°