Top hotels in Ayia Napa
Ayia Napa is the party capital of Cyprus, located on the southeast coast of the island. This resort town is well known for its beaches as well as its lively nightlife. A holiday to Ayia Napa is perfect for those looking to spend a week in the sun with a refreshing cocktail in hand.
The great thing is that we have plenty of hotels in Ayia Napa to choose from. Whether you're looking for luxurious 5-star resorts, or more affordable hotels and apartments. There are a number of guesthouses and small boutique hotels on offer within the town centre, which is great for visitors looking to enjoy the wonderful atmosphere of Ayia Napa.
Of course, those who are planning a party getaway to Ayia Napa may prefer to be close to the main strip. Our top Ayia Napa hotels include lovely apartments located in the midst of all the action, surrounded by the pumping ambiance of the strip.
Looking for a flight and hotel? Then check out our holidays in Ayia Napa here.
Most popular hotels in Ayia Napa
Cheap hotels in Ayia Napa
All Inclusive hotels in Ayia Napa
Luxury hotels in Ayia Napa
Family hotels in Ayia Napa
Makronisos Holiday Village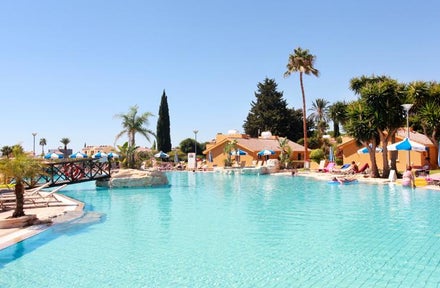 Makronisos Holiday Village
Ayia Napa,
Nightlife in Ayia Napa
Ayia Napa is home to an abundance of nightclubs and bars. Whatever type of night out you're looking for, you can tailor it to your liking with the wide range of venues on offer. Clubs and bars in Ayia Napa play the latest music, from EDM and Hip Hop to House and Pop. You can also find live music acts in the area, playing at venues which welcome performers. The nightlife in Ayia Napa is pretty relaxed, so those who'd prefer to dress casually can, but if you'd rather dress up in a smarter fashion, you can do so. Make sure to check out these top nightlife hotspots in Ayia Napa:
Castle Club
Club Aqua
Tommys
Simos Magic
Pepper
When to visit Ayia Napa
If you're wondering when to visit Ayia Napa for a clubbing holiday, the busiest time is from late June until early August. During this time, the resort town hosts the biggest events along with famous DJs and performers. The official summer season in Ayia Napa takes place from April until October, so during this time there is still plenty to do. Weather wise, the summer sees temperatures soar into the early 30's, making it the best time to visit Ayia Napa, especially for the beaches. On the other hand, May and October are still very hot and are a great time to travel for a Ayia Napa holiday.
Average high and low temperatures (°C):
January: 16° / 7°
February: 17° / 7°
March: 19° / 9°
April: 22° / 12°
May: 26° / 16°
June: 30° / 20°
July: 33° / 23°
August: 33° / 24°
September: 31° / 20°
October: 27° / 16°
November: 23° / 12°
December: 18° / 8°