Top hotels in Cyprus
Hotels in Cyprus are all about capturing an intense sunshine by the pool with a cocktail. Our range of hotels in Cyrpus ranges from simple self-catering apartments in the centre of Paphos to full-on 5-star resorts out in the sticks with everything you need for a complete package of relaxation and sunshine.
What's on offer?
Spread out across a variety of resorts, finding a hotel in Cyprus shouldn't be a chore. You also shouldn't have to set yourself too many limits. Cyprus is a quite a long flight away, but if you're smart with your booking you can snap up some fantastic last-minute deals.
Next is deciding which sort of holiday you're after, as the hotel is the core ingredient. If you're with friends, a simpler, cheaper aparthotel might be what you're after. If it's romance you're craving, then one of the larger, branded resorts, with private beaches, beds and pools, might be more your thing.
Looking for a flight and hotel? Then check out our holidays in Cyprus here.
Most popular hotels in Cyprus
All Inclusive hotels in Cyprus
Family hotels in Cyprus
Venus Beach Hotel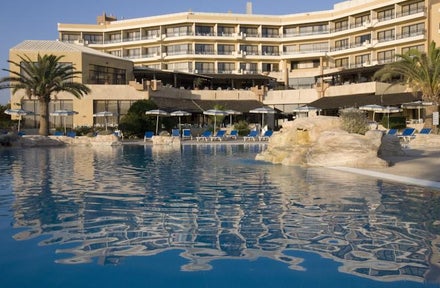 Venus Beach Hotel
Paphos,
Flight time to Cyprus
The average flight time to Cyprus is 4 hours 30 minutes from the UK.
Top resorts in Cyprus
There are many, many resorts to choose from, which only makes the hunt for a hotel in Cyprus that much easier to handle. Whether you're looking for historical sites or scenic sandy beaches, you'll be sure to find it on this little Mediterranean island.
Paphos
Limassol
Ayia Napa
Protaras
Larnaca
Nightlife in Cyprus
As well as its wonderful beaches, Cyprus attracts many tourists through its nightlife. With plenty of lively bars and clubs, Cyprus really comes to life in the night time. Beachfront promenades host entertainment throughout the night, anything from live music to stylish bars and cafes. With tons of bars and clubs dotted around, you can party until the sun comes up. On the other hand, some places take a more laid back approach when it comes to nighlife. Restaurants take the spotlight here, offering delicious seafood cuisine.
Nighlife hotspots in Cyprus include: