Top hotels in Cuba
Cuba, a paradise only recently opened up to international tourism. Finding a hotel in Cuba is an exciting business, possibly more so than anywhere else in the world. From historical landmark hotels in Havana, to modern, glitzy hotels in Varadero, Cuba is a paradise which can be explored at your own pace.
From self-catering apartments along traditional streets to all-inclusive resorts with dozens of swimming pools, hotels in Cuba in a variety of shapes and sizes. Discover the authentic remnants of this once insular country, enjoy the tastes and flavours of a distinct cuisine, and wander many untouched stretches of coastline and wilderness.
Havana, Cuba's capital and most populous city by quite some way, is an eclectic mish-mash of old and new. 1950s cars still rumble down the streets, which are undergoing a transformation from worn roads to modern promenades. Modern hotels stand next to battered apartment blocks - there are grand colonial mansion next to authentic Cuban houses. Varadero and Cayo Coco are where to look if you prefer a more classic holiday: expect large, branded hotels which private beach access, extensive restaurants, and lots of pools.
Looking for a flight and hotel? Then check out our holidays in Cuba here.
Cheap hotels in Cuba
Hotel Playa Caleta Salsa Club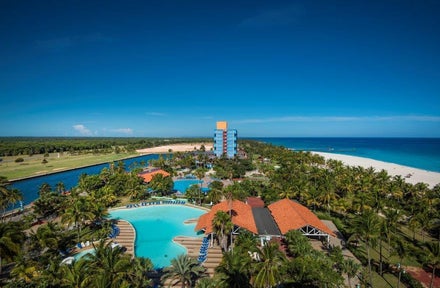 Hotel Playa Caleta Salsa Club
Varadero,
Blau Varadero Hotel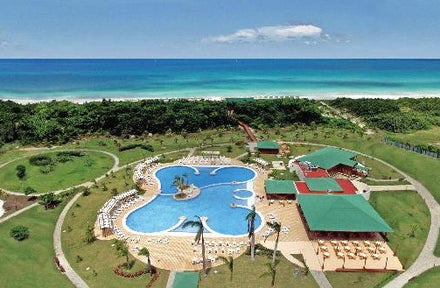 Blau Varadero Hotel
Varadero,
Flight time to Cuba
The average flight time to Cuba from the UK is 9 hours 30 minutes.
Things to do in Cuba
Cuba is a wonderful island in the Caribbean that has a plethora of history and culture that surrounds it. In fact, the island is still under communist rule, making it a one a kind to experience a Cuba holiday. The lively atmosphere can be felt throughout the island. Often known for its salsa clubs and production of cigars, a trip to Cuba has so much to offer its visitors. There are of course beautiful beaches and landscapes to be seen here as well as historical and cultural museums.
Great things to do in Cuba include:
Cayo Largo del Sur
Vinales Valley
Museum of the Revolution
Topes de Collantes
Gran Teatro de La Habana
Che Guevara Mausoleum
Jose Marti Memorial
Zapata Peninsula
Nightlife in Cuba
Cuba's capital of Havana is a unique place to experience Cuban nightlife. It's all about music, dancing and creating a lively atmosphere. There are loads of bars and clubs and even venues which offer live music like jazz. You will also find spots in Havana where salsa is on show. These salsa shows are truly fascinating and you'll want to join in too!
Wonderful nightlife hotspots in Cuba include:
Madrigal
La Zorra y el Cuervo
La Casa de la Musica
El Tropical
El Delirio Habanero
Casa de la Amistad