Top hotels in Los Cristianos
The relaxed atmosphere in Los Cristianos is great for families and whether you choose one of our cheap holiday apartments in the resort or splash out on a luxury hotel, you'll find plenty to do. There are wonderful ways of enjoying the water and sea life (from swimming and snorkeling to fishing trips to glass bottom boats) as well as an amazing choice of restaurants pubs and clubs, most catering for everything a British visitor could ask for.
Look to us for quality cheap hotels in Los Cristianos. Our range of cheap accommodation in Los Cristianos is second to none – you get real value for money. And with the peace of mind that we are ABTA members, you can relax and make the most of your time here. This is one of the most popular resorts in Tenerife, and with good reason!
Looking for a flight and hotel? Then check out our holidays in Los Cristianos here.
Cheap hotels in Los Cristianos
All Inclusive hotels in Los Cristianos
Luxury hotels in Los Cristianos
Regency Country Club, Apartments Suites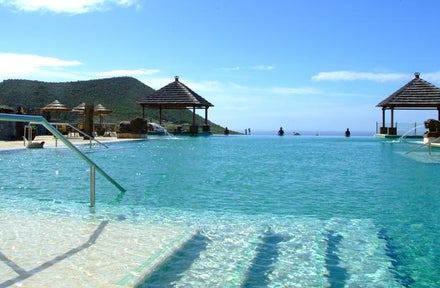 Regency Country Club, Apartments Suites
Los Cristianos, Tenerife
Family hotels in Los Cristianos
Flight time to Los Cristianos
The average flight time to Los Cristianos from the UK is 4 hours 20 minutes.
Beaches in Los Cristianos
Los Cristianos is a well-known resort area in Tenerife thanks to its number of beaches. The beaches are complete with fine golden sand and crystal-clear waters, perfect for families and water activities like snorkelling and windsurfing to name a couple. Sit back and relax on a beach on your choice as you top up your sun tan or splash around in the sea to cool down from the hot weather. On the other hand, sail out on a tour featuring a glass-bottomed boat, or embark on a trip of a lifetime as you go dolphin and whale watching.
Playa de las Vistas
Playa de los Cristianos
Playa los Callados
Playa del Camisón
When to visit Los Cristianos
Tenerife enjoys sunshine all year round, meaning Los Cristianos basks in hot weather throughout the majority of the year. The summer is a great time to visit the resort as this is when temperatures are at their highest. This usually lasts until September, then during the autumn, temperatures begin to slowly decrease. If you prefer to experience cooler weather during your stay in Los Cristianos, head to the resort during the spring or autumn.
Average high and low temperatures for each month (°C):
January: 22° / 16°
February: 23° / 16°
March: 24° / 16°
April: 24° / 17°
May: 25° / 18°
June: 26° / 19°
July: 28° / 21°
August: 29° / 22°
September: 29° / 22°
October: 27° / 21°
November: 25° / 19°
December: 24° / 17°