Top hotels in Costa Adeje
Situated just north of Playa de las Americas yet still very much part of the town, Costa Adeje is more up-market than its neighbour. It boasts a lovely small sandy beach and a couple of excellent waterfront restaurants. The atmosphere is low-key and classy, and if you want a proper day's sunbathing or swimming the nearby beach of Playa del Duque, comprising a stunning stretch of sand complete with watersports, is an easy 600 metres away. And if you fancy a lively night out, the bright lights of Playa de las Americas are within easy reach.
One of the most popular tourist resorts in Tenerife, Costa Adeje oozes sophistication and true holiday charm. Find yourself laying on a sandy beach in the south of Tenerife, enjoying the fantastic climate and sipping on a cocktail. In Costa Adeje, there are a number of different activities and locations for some family friendly fun, like water parks and a dolphinarium.
Due to the popularity of the Costa Adeje, there are a large amount of resorts and hotels to choose from. Luxurious all inclusive hotels are available as well as more affordable cheap holiday apartments. Choose something which appeals to your tastes and which is suitable for you. Choose the Costa Adeje for a lovely family holiday or a romantic getaway for two.
Thanks to Tenerife's climate, last minute deals are always a popular option. So, you can easily snap up a Costa Adeje hotel by the click of a button.
Looking for a flight and hotel? Then check out our holidays in Costa Adeje here.
Most popular hotels in Costa Adeje
Cheap hotels in Costa Adeje
All Inclusive hotels in Costa Adeje
Luxury hotels in Costa Adeje
Family hotels in Costa Adeje
Malibu Park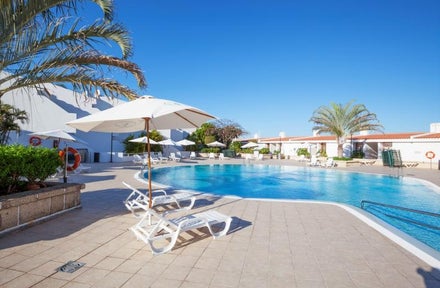 Malibu Park
Costa Adeje, Tenerife
Flight time to Costa Adeje
The average flight time to Costa Adeje from the UK is 4 hours 30 minutes.
Things to do in Costa Adeje
Costa Adeje is perfect for anyone looking for ultimate relaxation during their holiday. Mainly known for its beaches, you'll find golden sand and black sand beaches. Of course, if you're looking for more of a thrill, there are various activities that this resort town can offer.
Siam Park
Aqualand Costa Adeje
Playa de Troya
Playa de Fañabé
Casino Playa de las Americas
When to visit Costa Adeje
Tenerife lies just off the coast of Africa, meaning there is good weather to be had during your Costa Adeje holiday. Summers in particular can see temperatures rise, creating a hot and dry environment. Whereas, a trip to Costa Adeje during the autumn and spring months allow for more milder weather, making sightseeing more comfortable. The south of Tenerife is known to be warmer, so the Costa Adeje experiences less wind and rainfall.
Average high and low temperatures (°C):
January: 21° / 14°
February: 21° / 14°
March: 22° / 14°
April: 22° / 15°
May: 23° / 16°
June: 25° / 18°
July: 27° / 19°
August: 28° / 20°
September: 27° / 20°
October: 26° / 19°
November: 24° / 17°
December: 22° / 15°