Top hotels in Playa Blanca
This tranquil resort has a real 'get away' from it all feel. Beach-wise, you can take your pick from the gentle waters at Playa Dorada, Playa Flamingo or the sandy bays nearby. There's a pretty harbour area as well as an enticing selection of seafront restaurants and outdoor cafes serving freshly caught fish. Some of the the bars and cafes also offer entertainment at night. Regular ferries run from the harbour to the neighbouring island of Fuerteventura, and the island's Timanfaya National Park, capped by the 'Mountains of Fire', is easily accessible.
A trip to Lanzarote's Playa Blanca will take you to the southernmost town on the island. A fairly new resort, you'll find plenty of accommodation to choose from that will suit your tastes and budget. From 5-star stays to self catered apartments, Playa Blanca hotels are great for family holidays or a couples getaway.
Looking for a flight and hotel? Then check out our holidays in Playa Blanca here.
Most popular hotels in Playa Blanca
Cheap hotels in Playa Blanca
All Inclusive hotels in Playa Blanca
Luxury hotels in Playa Blanca
Family hotels in Playa Blanca
Vik Coral Beach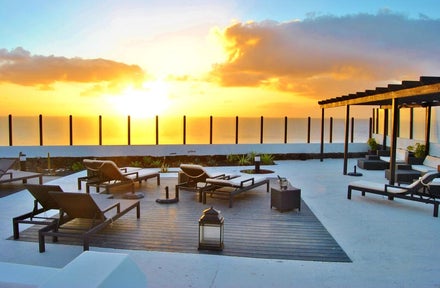 Vik Coral Beach
Playa Blanca, Lanzarote
H10 Lanzarote Princess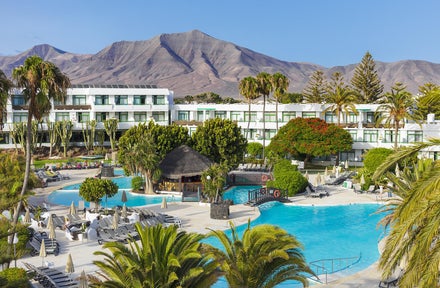 H10 Lanzarote Princess
Playa Blanca, Lanzarote
Flight time to Playa Blanca
The average flight time to Playa Blanca from the UK is 4 hours 15 minutes.
Things to do in Playa Blanca
There is plenty to keep you occupied during your stay in Playa Blanca. Check out the resort town's marina and experience the lively nightlife. Have fun with the kids at the resort's water park as you pick up speed down water slides, enjoy the lazy river and bob around in the wave pool. Beach days aren't hard to come by in Playa Blanca. Make sure you designate a few days for the beach during your Lanzarote holiday, where you can soak up the hot climate and splash around in the sea.
Aqualava Water Park
Playa Flamingo
Museo Atlántico
Playa Dorada
When to visit Playa Blanca
Playa Blanca is located in the south of Lanzarote and is a popular tourist resort thanks to its great climate. The resort town experiences year-round sunshine and a less rainfall compared to other resorts on the island. During the spring months, temperatures begin to rise, where they are at their highest during the summer. The best time for a Playa Blanca holiday is during July and August when temperatures are at their highest. Visit Playa Blanca in the autumn or spring if you prefer more pleasant temperatures and fewer crowds.
Average temperatures for each month (°C):
January: 21° / 14°
February: 21° / 14°
March: 23° / 15°
April: 23° / 16°
May: 25° / 17°
June: 26° / 19°
July: 28° / 20°
August: 29° / 21°
September: 29° / 21°
October: 27° / 19°
November: 24° / 17°
December: 22° / 15°