Top hotels in Maspalomas
Quieter than other resorts, Maspalomas offers the perfect mix of holiday diversions to satisfy those who want a bit of everything. Its first highlight is undoubtedly the beach, all six kilometres, stretching from the neighbouring sands of Playa del Ingles and finishing in a burst of Saharan-style splendour in a series of golden, rolling dunes. Roughly divided into sections for families and nudists, the main beach is a expanse of golden sand supplied with sunloungers. On the activities front there's plenty to entice you, from a laid-back waterfront lined with open-air cafes, restaurants and shops to some pleasant, low-key night-time entertainment centred around the hotels. There's also a variety of more energetic pursuits in the shape of an excellent 18-hole golf course, horse-riding and waterparks. And if you've ever fancied a spot of camel-riding, you can roam the dunes on board one of the hump-backed beasts.
Maspalomas hotels are varied, suiting a number of holidaymakers. From posh 5-star resorts which are equipped with all the facilities and amenities you could possibly want, to more affordable holiday apartments which are cosy and convenient during your stay.
Whatever tickles your fancy, you're sure to find accommodation suited to you during your Maspalomas holiday. Narrow down your options on loveholidays, using our filters, until you find something you are completely happy with.
Looking for a flight and hotel? Then check out our holidays in Maspalomas here.
Cheap hotels in Maspalomas
All Inclusive hotels in Maspalomas
Luxury hotels in Maspalomas
Salobre Hotel Resort & Serenity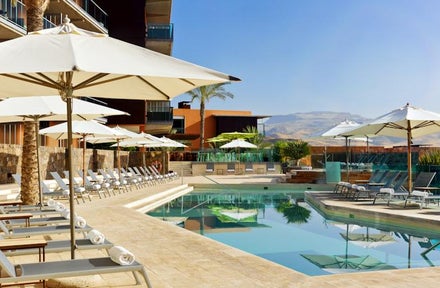 Salobre Hotel Resort & Serenity
Maspalomas, Gran Canaria
Maspalomas Resort by Dunas
Maspalomas Resort by Dunas
Maspalomas, Gran Canaria
Family hotels in Maspalomas
Suites & Villas by Dunas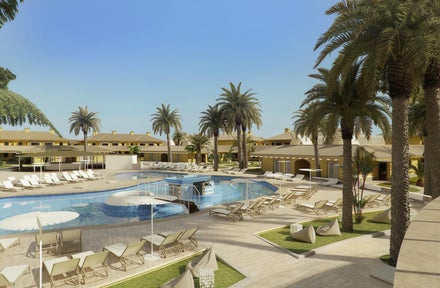 Suites & Villas by Dunas
Maspalomas, Gran Canaria
Hotel THe Koala Garden
Hotel THe Koala Garden
Maspalomas, Gran Canaria
Flight time to Maspalomas
The average flight time to Maspalomas from the UK is 4 hours 30 minutes.
Things to do in Maspalomas
Maspalomas is a wonderful spot in Gran Canaria for a variety of sights and activities. Beaches are a popular attraction along with the Maspalomas Dunes. Vast stretches of sand cover this area of Gran Canaria's southern coast creating an expanse of desert. Families will have a great time in Maspalomas thanks to the family-friendly attractions in the area.
Playa del Inglés
Holiday World Maspalomas
Maspalomas Dunes
Playa de Maspalomas
Aqualand Mapalomas
Playa del Aguilla
When to visit Maspalomas
Due to Gran Canaria's proximity to North Africa, the island enjoys a great climate including sunshine all year round. It is also very dry, meaning rainfall is rare to come across. Temperatures usually stay within the mid 20's for the majority of the year, with the summer allowing temperatures to soar up to 30 degrees. The best time to visit Maspalomas is between June and September, when you can enjoy the lovely weather, perfect for the beach. If cooler temperatures are what you're looking for, head to Maspalomas in the autumn months.
Average high and low temperatures (°C):
January: 21° / 15°
February: 21° / 15°
March: 22° / 16°
April: 22° / 16°
May: 23° / 17°
June: 25° / 19°
July: 27° / 21°
August: 27° / 22°
September: 27° / 21°
October: 26° / 20°
November: 24° / 18°
December: 22° / 16°