Top hotels in Gran Canaria
From cheap hotels in Gran Canaria to 5 star luxury and gorgeous holiday villas…in Gran Canaria you have an amazing choice and by choosing to book online with us, your accommodation in Gran Canaria comes with the reassurance of our ABTA membership.
There is a variety of options when it comes to picking a hotel in Gran Canaria for the family or yourself. Firstly, Gran Canaria is a great location if you're looking for hot sun all round. With loads of affordable hotels, promising weather and a great beaches, what more could you ask for? A popular choice for many, you can imagine the range of hotels on offer in Gran Canaria. Especially, with a coastline all around, its not hard to find a hotel near the beach.
With a range of all inclusive resorts and cheap apartments, we've got a grand selection of hotels in Gran Canaria to suit your taste (and your budget!). The perfect island for a family retreat, you can find family-friendly villas and hotels in Gran Canaria which you will love.
Looking for a flight and hotel? Then check out our holidays in Gran Canaria here.
Most popular hotels in Gran Canaria
All Inclusive hotels in Gran Canaria
Luxury hotels in Gran Canaria
Family hotels in Gran Canaria
Monte Feliz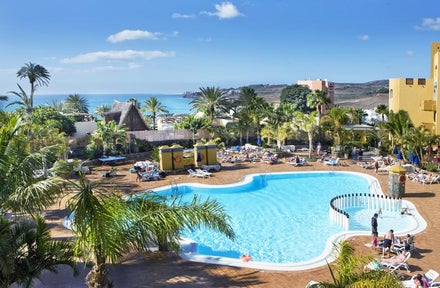 Monte Feliz
Bahia Feliz, Gran Canaria
Flight time to Gran Canaria
The average flight time to Gran Canaria from the UK is 4 hours 25 minutes.
Things to do in Gran Canaria
Many tourists flock to Gran Canaria for sandy beaches, the hot climate and family friendly resorts. Making it the perfect places for family orientated fun. This volcanic island has some interesting landscapes to discover. As well as fun parks that will keep the children entertained during their holiday.
Fun things to do in Gran Canaria include:
Playa del Ingles
Las Canteras Beach
Roque Nublo
Palmitos Park
Bandama Caldera
Mapalomas Dunes
Casa de Colon
Las Palmas Cathedral
Top resorts in Gran Canaria
There are an abundance of resorts in Gran Canaria, meaning you have plenty to choose from when it comes to booking your hotel and holiday. From quiet resorts, to more livelier ones. From family-friendly resorts to ones more suited to couples. You'll find whatever it is you're looking for on this Canary Island.
Top resorts in Gran Canaria include:
Las Palmas
Maspalomas
Puerto Rico
Taurito
Playa del Ingles