Top hotels in Sunny Beach
Sunny Beach is just that; a spectacular 8 km stretch of sand which has been awarded the international Blue Flag. It is by far the largest resort on the Black Sea coast, offering many hotels interspersed with restaurants, bars and shops. Buses run up and down the main strip and also out to Varna and Bourgas. Sunny Beach also boasts the best night-life with lively night-spots on offer.
Due to the area that Sunny Beach covers, there are plenty of resorts and hotels to choose from. Fancy 5-star hotels line the beach, along with more affordable options and self catered apartments. Whatever accommodation you prefer, you'll be sure to find something in Sunny Beach that is right up your street.
Looking for a flight and hotel? Then check out our holidays in Sunny Beach here.
Most popular hotels in Sunny Beach
Cheap hotels in Sunny Beach
All Inclusive hotels in Sunny Beach
Luxury hotels in Sunny Beach
Glarus Beach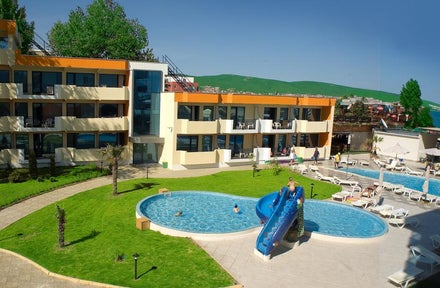 Glarus Beach
Sunny Beach,
Family hotels in Sunny Beach
Aparthotel Royal Sun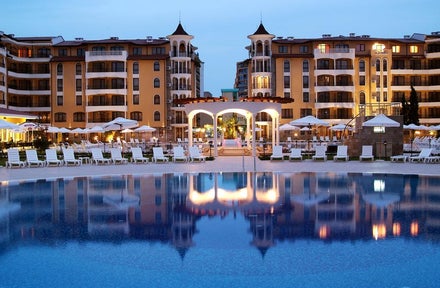 Aparthotel Royal Sun
Sunny Beach,
Flight time to Sunny Beach
The average flight time to Sunny Beach from the UK is 3 hours 35 minutes.
When to visit Sunny Beach
Sunny Beach is absolutely fantastic during the summer as the temperatures are high and the skies are clear. The resort town basks in the sunshine but also has a somewhat cooler climate compared to other Mediterranean destinations. Sunny Beach lives up to its name and offers its visitors sunshine for the majority of the year. However, going into autumn the temperatures begin to drop with winter being the coldest time of the year. Being on the coast, Sunny Beach receives a cool breeze from the Black Sea, which makes the winter's even chillier.
Average monthly temperatures (°C):
January: 7° / -2°
February: 8° / -1°
March: 12° / 2°
April: 16° / 6°
May: 21° / 11°
June: 26° / 15°
July: 29°/ 17°
August: 28° / 17°
September: 25° / 14°
October: 19° / 9°
November: 13° / 4°
December: 8° / 0°
Nightlife in Sunny Beach
Looking to experience the Bulgarian nightlife? Sunny Beach is one of the best places to do it. The Black Sea coastal resort has a nightlife to envy. There are a number of beach clubs and nightclubs which host international and local DJs to ensure the crowd has a great time. During the summer, the nightlife is lively and pumping creating the perfect atmosphere to dance the night away and have the time of your life!
Check out these nightlife hotspots in Sunny Beach:
Cacao Beach Club
Bedroom Beach
Club Iceberg Cph
Graffiti Club
Room2