Top hotels in Bulgaria
Hotels in Bulgaria are mostly focussed around the coastal resort towns. These are generally cheaper hotels that can be snapped up for unreal prices, especially if you're keen on a last-minute deal or a bargain all-inclusive holiday. Infinitely affordable, Bulgaria is a holiday destination growing rapidly in popularity as people realise the excellent weather, lovely beaches and cheap food and drink can all be enjoyed from the base of a low-cost hotel.
Depending on your tastes, budget and who you're travelling with, there are plenty of options when it comes to hotels in Bulgaria. As we've said, a currently affordable destionation, you will find many cheap hotels in Bulgaria. If you're looking to treat yourself whilst on your holiday, you may want to spend a little more to bag that perfect all inclusive Bulgaria hotel.
Looking for a flight and hotel? Then check out our holidays in Bulgaria here.
All Inclusive hotels in Bulgaria
Luxury hotels in Bulgaria
Family hotels in Bulgaria
Lion Borovets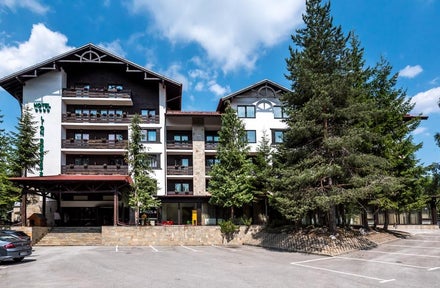 Kuban Resort and Aqua Park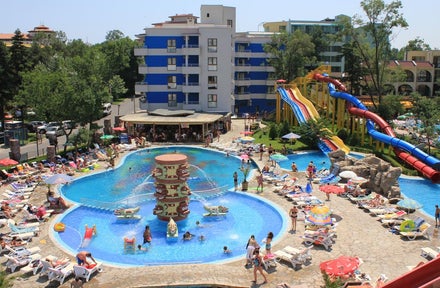 Kuban Resort and Aqua Park
Sunny Beach,
Flight time to Bulgaria
The average flight time to Bulgaria from the UK is 3 hours 20 minutes.
Top resorts in Bulgaria
Hotels in Bulgaria aren't just about the beach. A country of diverse regions, you can hit the ski slopes as easily as the sands. Booking a hotel in Borovets or Bansko means you can enjoy everything a ski holiday has to offer usually at much lower cost than other European destinations. Plus, although there are a wide range of self-catering hotels, especially in Sunny Beach, there are also plenty of all-inclusive hotels in Bulgaria if you prefer. Sunny Beach is the largest resort in Bulgaria.
Top resorts in Bulgaria include:
Sunny Beach
Bansko
Borovets
Nessebar
Golden Sands
When to visit Bulgaria
Bulgaria is a popular cheap holiday destinaton, not only is it cheap, but it has a great climate too. The summers are hot, especially July and August. More pleasant temperatures can be experienced in spring and autumn. Months like April and May have great weather albeit milder than summer. The same weather is felt in September, which is another fantastic time to visit Bulgaria. However, the winters can be cold, so make sure to pack layers!
Average high and low temperatures for each month:
January: 6° / -1°
February: 9° / 1°
March: 13° / 3°
April: 17° / 6°
May: 22° / 10°
June: 26° / 14°
July: 29° / 16°
August: 28° / 16°
September: 25° / 14°
October: 19° / 9°
November: 12° / 4°
December: 7° / 0°