Top hotels in Barbados
Looking for a holiday in the paradisiacal Caribbean? Ever thought about the beautiful island of Barbados? This island is simply one of a kind, with glorious beaches boasting golden sands and of course basking in hot temperatures all year round. Laze around on Barbados' beaches with a cocktail in hand or be a bit more adventurous with a trip out at sea, whether it be sailing or snorkelling. Afterwards, enjoy a night out on the island where you can totally immerse yourself within an important aspect of culture in Barbados – music.
The great thing about Barbados holidays is the wide range of hotels there are to choose from. Whether you're looking for an all inclusive escape on the island or a more affordable option during your stay, there is something to suit everyone.
Looking for a flight and hotel? Then check out our holidays in Barbados here.
All Inclusive hotels in Barbados
Luxury hotels in Barbados
Bougainvillea Barbados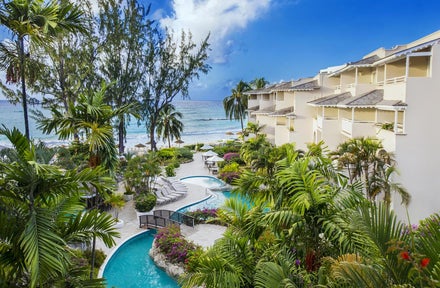 Bougainvillea Barbados
Christchurch,
Crystal Cove by Elegant Hotels
Crystal Cove by Elegant Hotels
St James,
Family hotels in Barbados
Beach View
Mango Bay Beach Resort
Mango Bay Beach Resort
St James,
Flight time to Barbados
The average flight time to Barbados from the UK is 8 hours 45 minutes.
Beaches in Barbados
The beaches in Barbados are exactly how you imagine them… beautiful! White and golden fine sands complemented by turquoise waters. The beaches on this island are great for all purposes. Whether you're looking to relax in the sunlight on the soft sands, splash around in the warm, clear sea or have a go at fun water sports, the choice is yours. With plenty of beaches to choose from, it's easy to see why so many choose Barbados for their beach holiday.
Bathsheba Beach
Martin's Bay
Sandy Lane Beach
Dover Beach
Crane Beach
When to visit Barbados
Thinking about the weather? Or maybe even what festivals will be going on during your stay to the island? Well, firstly Barbados' dry season runs from December to April, meaning this is the time when the island basks in warmth and pure sunshine. Perfect for visiting the beach and lapping up the good weather. On the other hand, the island's rainy season runs its course between June and November. This doesn't mean that it is rainy every day, but the island is prone to short bursts of showers and a cooler temperature. Barbados' official hurricane season starts from early June and end around October time. September and October remain to be the months with the highest threats of hurricanes. Finally, the most popular festival in Barbados is Crop Over, the island's annual carnival celebrations which happen in August, so head to the island during this time if you'd like to join in on the experience.
Average high and low temperatures for each month (°C):
January: 29° / 23°
February: 29° / 23°
March: 29° / 23°
April: 30° / 24°
May: 31° / 25°
June: 31° / 25°
July: 31° / 25°
August: 31° / 25°
September: 31° / 24°
October: 31° / 24°
November: 30° / 24°
December: 29° / 23°