Top hotels in Puerto Pollensa
Picturesque Puerto Pollensa is set on the shoreline. The town itself nestles between two mountains and is steeped in charm, with pretty, pastel-coloured cottages, stone buildings and narrow streets. There's a medieval museum and colourful country market, as well as lots of shops and restaurants, but generally this is a place for a quieter-style of holiday. The beach with its tree-lined waterfront, enticing cafes, restaurants and sandy bays offers windsurfing, pedalos and water-skiing. For more sightseeing, you can head for nearby Alcudia with its medieval city and Roman ruins and Pollensa is only a few kilometres away.
Puerto Pollensa holidays offer you views of the Mediterranean Sea and lovely beaches to top up your tan on. Luckily enough, with our cheap holiday deals, you're bound to find the perfect place to stay during your Puerto Pollensa getaway.
There are a wide range of hotels and apartments to suit the pickiest of tastes and the smallest of budgets. Whether a hotel close to the beach inspires you or apartments which are equipped with a swimming pool on site, you can choose from a large collection of our top hotels in Puerto Pollensa. If you're on a family getaway, feel comfortable with the whole family in an all inclusive resort. Or try a half board option as you taste the local cuisine in nearby restaurants.
Majorca is a huge family favourite and Puerto Pollensa is a fantastic option to get away with the kids.
Looking for a flight and hotel? Then check out our holidays in Puerto Pollensa here.
Cheap hotels in Puerto Pollensa
All Inclusive hotels in Puerto Pollensa
Luxury hotels in Puerto Pollensa
Hoposa Villa Concha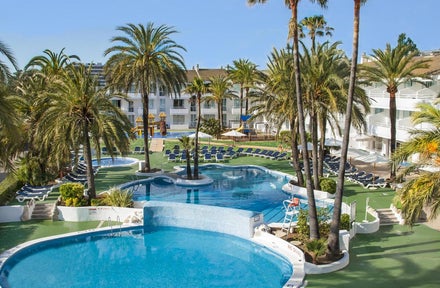 Hoposa Villa Concha
Puerto Pollensa, Majorca
Mar Senses Puerto Pollensa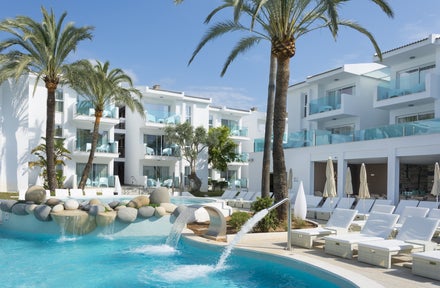 Mar Senses Puerto Pollensa
Puerto Pollensa, Majorca
Family hotels in Puerto Pollensa
Pollentia Hotel Hoposa Adults Only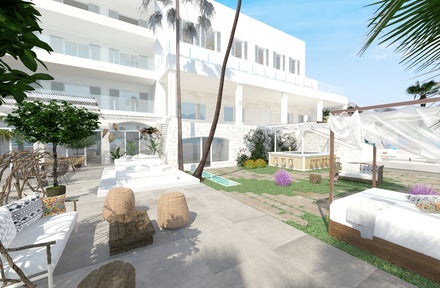 Pollentia Hotel Hoposa Adults Only
Puerto Pollensa, Majorca
Flight time to Puerto Pollensa
The average flight time to Puerto Pollensa from the UK is 2 hours 25 minutes.
When to visit Puerto Pollensa
Puerto Pollensa is a quiet town, situated in the north of Majorca. It enjoys a lovely Mediterranean climate, with temperatures soaring during the summer and getting milder as the year continues on. The best time to visit Puerto Pollensa would be during the June to October period. During this time, temperatures are great for the beach, with the autumn months seeing slightly more comfortable temperatures. A visit in the spring time would see quite a bit of rain, but it you would rather visit Puerto Pollensa when it is cooler, the best time to visit would be between November and May.
Average high and low temperatures (°C):
January: 14° / 4°
February: 14° / 4°
March: 17° / 5°
April: 19° / 8°
May: 23° / 12°
June: 27° / 16°
July: 29° / 18°
August: 30° / 19°
September: 26° / 16°
October: 23° / 13°
November: 18° / 8°
December: 15° / 5°
Beaches in Puerto Pollensa
The small town of Puerto Pollensa is mainly known for its beaches, rather than having any vital landmarks or sightseeing monuments. The beaches in this area of Majorca are simply stunning. Boasting clear waters and fine golden sand, these beaches are also surrounded by magnificent views of mountain ranges and lush greenery.
Cala Barques
Cala Molins
Cala Sant Vicenc
D'Albercuix Beach
Cala Bóquer