Top hotels in Palma
Palma, the beautiful capital of the Balearic Island of Majorca, is full of picturesque beaches and cultural highlights. It's the perfect location for every type of holidaymaker, whether you're travelling with the kids, as a couple or with a group of friends, Palma holidays are utterly inspiring. Roam around its narrow, winding streets as you discover grand cathedrals and ancient castles. Or sample traditional dishes at local restaurants as you taste the Mediterranean flavours which have helped influence the capital.
Palma has an abundance of lovely hotels which vary from the basic to the luxury. Whether you're looking for apartments, or 5-star hotels, when it comes to accommodation in Palma, you'll be spoilt for choice.
Looking for a flight and hotel? Then check out our holidays in Palma here.
Luxury hotels in Palma
Gran Melia Victoria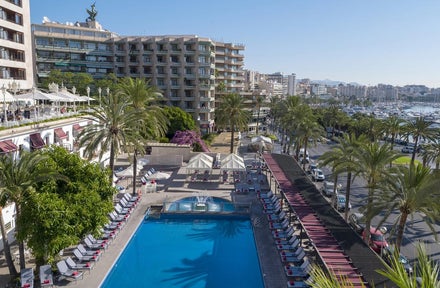 Gran Melia Victoria
Palma, Majorca
Flight time to Palma
The average flight time to Palma from the UK is 2 hours 25 minutes.
Things to do in Palma
Palma is full of cultural influences from both the Mediterranean as well as northern Africa. This is clearly reflected in the city's architecture including its many stunning cathedrals and pedestrian squares. There is also plenty for the kids to enjoy, from an old wooden train ride which takes you through the mountains to spotting the marine wildlife at the city's aquarium.
Palma Cathedral
Bellver Castle
Royal Palace of La Almudaina
Ferrocarril de Sóler
Mayor Plaza
Palma Aquarium
When to visit Palma
Summer is wonderful in Palma as this is when temperatures are at their highest. However, if you don't mind slightly milder weather, you might want to head to the Majorcan capital during the spring months as there are usually fewer tourists during this period. The autumn and winter are other seasons which see Palma experience cooler temperatures, but this is also when you start to see the most rainfall in the city.
Average monthly weather (°C):
January: 15° / 4°
February: 16° / 4°
March: 17° / 5°
April: 20° / 8°
May: 24° / 11°
June: 28° / 15°
July: 31° / 18°
August: 31° / 19°
September: 28° / 13°
October: 24° / 13°
November: 19° / 8°
December: 16° / 5°