Top hotels in Magaluf
With the longest sandy beach in this part of Majorca, Magaluf has some of the best beach life. Its lapped by beautifully clear waters, ideal for glass-bottom boat forays and numerous watersports. And if you can drag yourself away from the sea and sand and you will find lots of cheery souvenir shops selling locally made leather goods, pots and jewellery, plus there ared plenty of bars, cafes and pavement restaurants.
By night the resort is even livelier than Palma Nova, with a vast array of discos, British-style pubs and nightclubs to see you through until dawn. Magaluf is known for its lively nightlife, attracting dozens of holidaymakers. The summer period in Magaluf is especially energetic as many bars and clubs in the area host famous DJs and pumping parties along the strip.
On the other hand, Magaluf isn't just for youngsters looking to have a good time. This Balearic hotspot is fast becoming a top destination amongst families. With many hotels becoming accustomed to family friendly environments and equipped with activities and facilities for children. For family fun and entertainment, you might want to treat the children to a visit to the Aquapark, famous for its daredevil water-chutes, or maybe take them for an afternoon's go-karting.
There are plenty of options when it comes to Magaluf hotels. So, whether you're looking for an all inclusive paradise dedicated to families or a more affordable self catered apartment suitable for a group of friends, our top Magaluf hotels won't disappoint.
Looking for a flight and hotel? Then check out our holidays in Magaluf here.
Most popular hotels in Magaluf
All Inclusive hotels in Magaluf
Family hotels in Magaluf
Sunlight Bahia Principe Coral Playa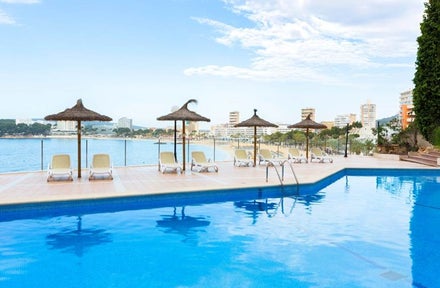 Sunlight Bahia Principe Coral Playa
Magaluf, Majorca
Globales Honolulu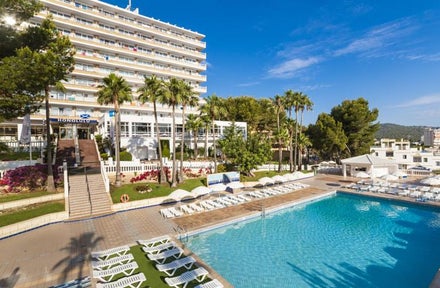 Globales Honolulu
Magaluf, Majorca
Flight time to Magaluf
The average flight time to Magaluf from the UK is 2 hours 20 minutes.
Things to do in Magaluf
This resort town has plenty to do in the day and the night. Relax on the fine golden sand beaches in the day, as you top up your tan and have a splash around in the sea. Or visit one of Magaluf's theme parks and water parks for a day of fun. Once the night falls, the strip comes alive and so do the bars and restaurants that can be found along the waterfront promenade.
Katmandu Park
Western Water Park
Isla de sa Porrassa
Palma Nova Beach
Magaluf Beach
Nightlife in Magaluf
Magaluf has a notorious nightlife. During your Magaluf holiday, you'll be sure to head out one night to explore what this Majorcan resort town has to offer. There is a large choice of bars to choose from, which are great for an evening drink to get the night started. Or even if you would rather prefer a quieter evening. Aside from that, there are a number of nightclubs where you can dance the night away, or if you're lucky catch a glimpse of world-class DJs as they perform their set to expert party goers.
Stereo Bar Magaluf
Bcm Planet Dance
Piano Bar
Zeppelin Live Music Bar
Ocean's Beach Club