Top hotels in Alcudia
Alcudia is located in the north of Majorca and offers some of the finest hotels on the island. Port d'Alcudia, which is just a short distance from Alcudia proper, is one of the most popular family-friendly resorts to look for a hotel in Majorca.
Inland rests the historic centre of Alcudia, lined with medieval walls and cobbled streets. Constructed by King Jaime I of Spain in the 14th century, during the reconquest of the island from the Moorish invaders, the walls enclose a quaint town centre where narrow streets burst onto squares full of cafes and restaurants. Just outside of town, the coastline stretches for a whopping 4 miles and here's where you'll find the areas biggest hotels and tourist attractions.
Majorca is one of our favourite last minute holiday destinations, and finding an all inclusive hotel at a low price is very achievable if you know where to look. Hint, hint: try out our search engine!
Looking for a flight and hotel? Then check out our holidays in Alcudia here.
Most popular hotels in Alcudia
Cheap hotels in Alcudia hotels in Alcudia
All inclusive hotels in Alcudia hotels in Alcudia
Family hotels in Alcudia hotels in Alcudia
JS Sol de Alcudia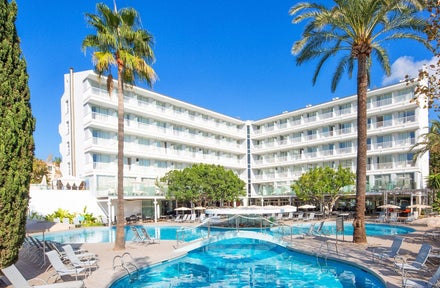 JS Sol de Alcudia
Alcudia, Majorca
Flight time to Alcudia
The average flight time to Alcudia is 2 hours 5 minutes.
Things to do in Alcudia
Alcudia's attractions spring up all along the Bay of Alcudia. Beginning at the Alcudia marina, you head past the quieter beach of Playa de Muro, along with the sands and shops and hotels, towards a nature reserve, and eventually the resort of Ca'n Picafort. If you're looking for a hotel with access to plenty of sights, then Alcudia could be the place for you in 2018.
S'Albufera Nature Reserve - The nature reserve, S'Albufera Nature Reserve, is a lovely space to spend a warm day. There are dunes, lagoons, paths and trails that ramble across the wild country. Expect delicious holiday scents, plenty of spots to stop for a picnic - remember to pick up your waste - and many seabirds to spy.
Pollentia - Once a bustling and prosperous Roman town, founded in 123 bc, Pollentia now stands in ruin just outside the heart of Alcudia. You can visit the site and walk amongst the ruins, ideal for a cooler day. There's also a museum next to the church in Alcudia which shows off some of the artefacts found in Pollentia and also representations of what the city may have once looked like.
Bay of Alcudia, Playa de Muro, C'an Picafort - The Port d'Alcudia, as the name might suggest, was once a thriving port that serviced the town of Alcudia. Now the area is mostly a commercial marina, and although there are some restaurants, shops and bars, you only have to head 100 or so metres down the coast to get away from the mudflats of the beach around the port. The coast transforms from Alcudia Beach to Playa de Muro, a popular spot for families, and as you head further south you'll pass a rugged area of beach that belongs to the nature reserve, and then finally hit C'an Picafort. A hotel or aparthotel at any point along this coastline is bound to please the whole family.
When to visit Alcudia
Alcudia is located in the north of Majorca and enjoys a lovely warm climate. The summer months of July and August are the best times to visit the town as the island basks in hot sunshine and there is hardly a chance of rainfall. If you'd prefer cooler temperatures, look to book your Alcudia holiday in the spring or autumn. During this time there will be less crowds as it is the low season for tourism. However, the weather is still pleasant and warm.
Average high and low temperatures (°C):
January: 14° / 4°
February: 14° / 4°
March: 17° / 5°
April: 19° / 8°
May: 23° / 12°
June: 27° / 16°
July: 29°/ 18°
August: 30° / 19°
September: 26° / 16°
October: 23° / 13°
November: 18° / 8°
December: 15° / 5°