Top hotels in San Antonio
Lively, colourful and set into a beautiful west-coast bay, San Antonio is Ibiza's party capital and attract flocks of young people between June and September. However, at quieter times of year and around its edges, it's great for families, with plentiful sandy beaches and fun watersports all easily accessible by ferry right around the bay.
In San Antonio's centre, the 'west end' is the partying hub with hundreds of bars, pubs and clubs perfect for living it up till sun-up, During the day, many people lounge on the sandy town beach or linger in the pretty harbour, pedestrianised areas and palm-fringed seafront. When you fancy getting out and about, head for the traditional village of San Rafael nearby or catch a bus into Ibiza Town for its amazing shopping, lively waterfront and enchanting old quarter.
There are a huge number of hotels in the San Antonio area, so you're sure to find something up your street. Self catering apartments are available as well as luxury hotels. Take a look at the range of hotels we have on offer and grab a bargain!
Looking for a flight and hotel? Then check out our holidays in San Antonio here.
Most popular hotels in San Antonio
Cheap hotels in San Antonio
All Inclusive hotels in San Antonio
Luxury hotels in San Antonio
Sol House Ibiza
Sol House Ibiza
San Antonio, Ibiza
THB Ocean Beach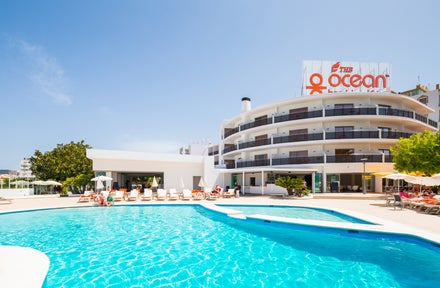 THB Ocean Beach
San Antonio, Ibiza
Family hotels in San Antonio
Hotel - Apartmentos Ses Savines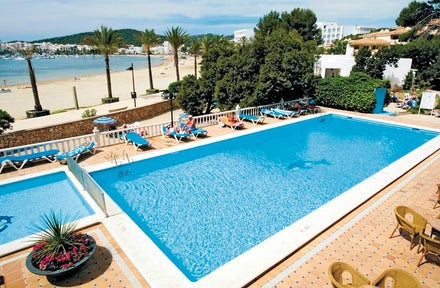 Hotel - Apartmentos Ses Savines
San Antonio, Ibiza
Arenal Hotel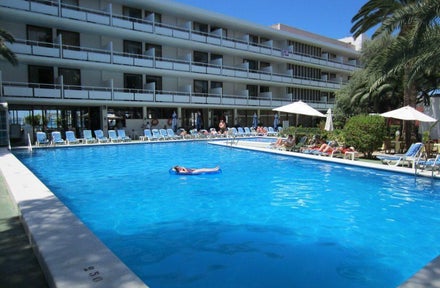 Arenal Hotel
San Antonio, Ibiza
Flight time to San Antonio
The average flight time to San Antonio from the UK is 2 hours 30 minutes.
Nightlife in San Antonio
San Antonio is home to a picture-perfect harbour and a stunning promenade lined with palm trees. Perfect for holidaymakers looking for a beach resort with views, San Antonio is also pleasing to those looking to get closer to Ibiza's nightlife. With fantastic restaurants, bars and clubs, it's easy to have a great night out in San Antonio.
Eden Ibiza
Es Paradis
Ibiza Rocks
Café Mambo
Savannah
When to visit San Antonio
If you're heading on a San Antonio holiday for clubbing, the best time to visit would be between June and September. June is when Ibiza starts getting busier and the partying continues throughout the summer. September is still a lively month for San Antonio and Ibiza in general as this is usually when all the massive closing parties take place. Weather-wise, San Antonio is sizzling during the summer months, with August being the hottest of the year. Spring offers cooler weather which is still pleasant for sightseeing and visits to the beach. On the other hand, a trip to San Antonio in the winter can be chilly and wet.
Average high and low temperatures (°C):
January: 16° / 8°
February: 16° / 8°
March: 17° / 9°
April: 19° / 11°
May: 23° / 14°
June: 27° / 18°
July: 29° / 21°
August: 30° / 22°
September: 28° / 20°
October: 24° / 16°
November: 19° / 12°
December: 17° / 9°