Valletta holidays 2019 / 2020
Basking in the perpetual warm glow of receiving the highly prized accolade of a UNESCO World Heritage Site, the island of Malta's number one city, Valletta is richly deserving of the title on many fronts. Chief among those is the fact that the Maltese capital is widely revered as being one of the most historically dense areas in the world, characterised by a seemingly never-ending blanket coverage of sublime architectural landmarks, one time geographically-strategic fortifications and an array of ancient era ruins to feast the eyes on.
The harbour city offers various points of interest for all visitors enjoying their Valletta holiday, whether they consider themselves history buffs or if instead it's a plethora of other elements that the Maltese city is famous for which has attracted them in the first place. Other alternative theories as to why holidays in Valletta are soaring in popularity include the choice of sun, sea and sand worship-magnetising beach resorts which pretty much circle the city, while retail therapists might well suggest it has more to do with the much-hyped shopping destination of nearby Sliema.
Either way, this perfect Mediterranean marriage of historical/architectural intrigue, retail opportunities and of course, stunning beaches make Valletta the perfect 2019 / 2020 holiday match for those looking to get away from it all.

Most popular hotels in Valletta
Grand Excelsior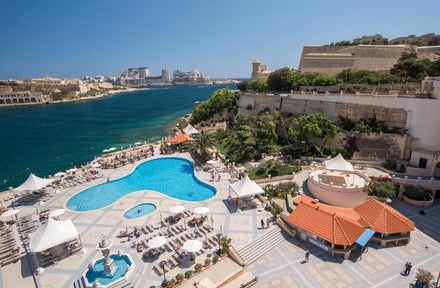 A
city break
is a fantastic way for getting your holiday fix when you're short of time or just feel like getting away from the daily grind for a few days. And thanks to our great
last minute
city break deals at loveholidays, a short break doesn't have ...
At a glance
Currency:
Language:
Time Zone:

GMT +

Average flight time:

3h 20m
Valletta
, capital of Malta, is a captivating fortress city of golden stone that sits on a narrow peninsula. It was built by the Knights of the Order of St John in the 16th century, and its elegant grid of palace-lined streets has been so beautifully preserved that it is now ...
When to go
(°C) Avg. High Temp
Top Malta Destinations
Love the sound of Valletta but wondering what are your other options in Malta? Check out some of our top Malta holiday destinations below:
All hotels in Valletta
Not sure which Hotel to go to? Check out our top Valletta hotels:
5 Star Hotels in Valletta