Tuscany holidays 2019 / 2020
A holiday to Tuscany is simply exquisite, and the experience of food, art and wine are unforgettable. In fact, nothing about a holiday to Tuscany will disappoint, as the region is a world-class vacation spot. With our top deals, we can help to make your holiday to Tuscany a cheap holiday.
A vast array of specialities from art to wine-producing come together in Tuscany; making it one of the most elegant regions in Italy. From the magical Siena Cathedral to meeting Michelangelo's David in person, you will find that the region of Tuscany presents some of the most intriguing examples of architecture and art. World famous sculptures, paintings and buildings are commonplace throughout the towns and cities, although there's plenty aside from the intriguing monuments, too.
Set amongst one of Italy's finest natural landscapes, Tuscany must be lived to be believed. A holiday to the central region of Italy will transport you back in time in its small villages and have you dreaming of spending your future in the Tuscany. Magical and majestic, Tuscany is a wonderland of beauty waiting to be seen.
Most popular hotels in Tuscany
MH Florence Hotel & Spa
MH Florence Hotel & Spa
Florence, Tuscany
Boston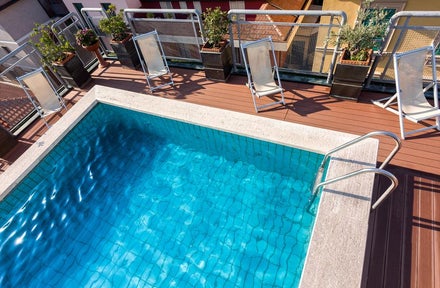 Boston
Montecatini, Tuscany
At a glance
Currency:
Language:
Time Zone:

GMT +

Average flight time:

2h 5m
When to go
(°C) Avg. High Temp
Top Tuscany Holidays
Check out our best Tuscany holiday destinations below