Nestled amongst olive grove covered hillsides and pine tree forests, Torba holidays are all about quiet relaxation. If you are looking for a destination that offers something more than your typical beach break, why not make Torba your holiday destination in 2019 / 2020?
Here you'll be within striking distance of the hustle and bustle of larger resorts, but without the constant crowds. Torba's quiet beaches provide a relaxing haven to forget all of life's worries. But if you do fancy something slightly more active, then you can easily organise a day trip by ferry to nearby Didyma and visit the Apollo Temple.
Food-wise you won't be disappointed by the wide array of traditional Turkish restaurants offering the best of local delicacies. You'll discover a slightly more buzzing nightlife in Bodrum, just six miles to the South, if you feel the need to let your hair down on the dance floor.
If you are looking for a resort offering plenty of fun in the sun, but fewer tourists, then a holiday in Torba in 2019 / 2020 is the one for you.
Most popular hotels in Torba
Blue Dreams Resort & Spa (ex. Club Blue Dreams)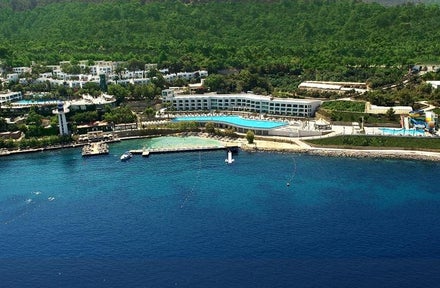 Blue Dreams Resort & Spa (ex. Club Blue Dreams)
Torba, Aegean Coast
Thor By Alkoclar Exclusive
Thor By Alkoclar Exclusive
Torba, Aegean Coast
At a glance
Currency:
Language:
Time Zone:

GMT +

Average flight time:

4h 0m
When to go
(°C) Avg. High Temp
All hotels in Torba
Not sure which Hotel to go to? Check out our top Torba hotels:
5 Star Hotels in Torba